'Marvel's Agent Carter' Reveals Several New Characters and Stars for Season 2
The Marvel Cinematic Universe will be expanding to include a few more names.
At the "Agents of Primetime" panel at New York Comic Con, Marvel head of television Jeph Loeb announced that Marvel's Agent Carter will be adding a few new characters.
Lotte Verbeek will play the role of Edwin Jarvis' wife, Ana, a free-spirited woman who quickly befriends Peggy and helps her adjust to life in Los Angeles. Verbeek is no stranger to period dramas, having played the Scottish herbalist Geillis Duncan on Starz' Outlander.
She'll be joined by Wynn Everett, who will play Whitney Frost—who also happens to go by "Madame Masque" in the comics. The character was created by Stan Lee and Gene Colan and first appeared in Tales of Suspense #98 as Whitney Frost, debuting a year later as Madame Masque in Iron Man #17. She will serve as a major antagonist in Season 2.
RELATED: Iain De Caestecker Discusses What's Next for Fitz on Marvel's Agents of S.H.I.E.L.D.
Also joining the cast is Currie Graham (House of Lies) as Calvin Chadwick, while Reggie Austin (Devious Maids) will play Dr. Jason Wilkes.
Season 1 stars Dominic Cooper and Bridget Regan will also return as Howard Stark, Tony Stark's father, and Dottie Underwood, a graduate of the Black Widow program and one of Peggy's main antagonists in Season 1.
Joining them are Enver Gjoklaj and Chad Michael Murray, who will also be reprising their roles as Daniel Sousa—who's been promoted to chief between seasons—and Jack Thompson, respectively.
Marvel's Agent Carter returns midseason.
More News From Comic Con: Sneak peeks, panel reveals and what's ahead on your favorite shows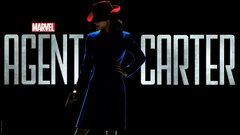 Powered by