'Agents of S.H.I.E.L.D.' Episode 2: The Fate of Simmons Revealed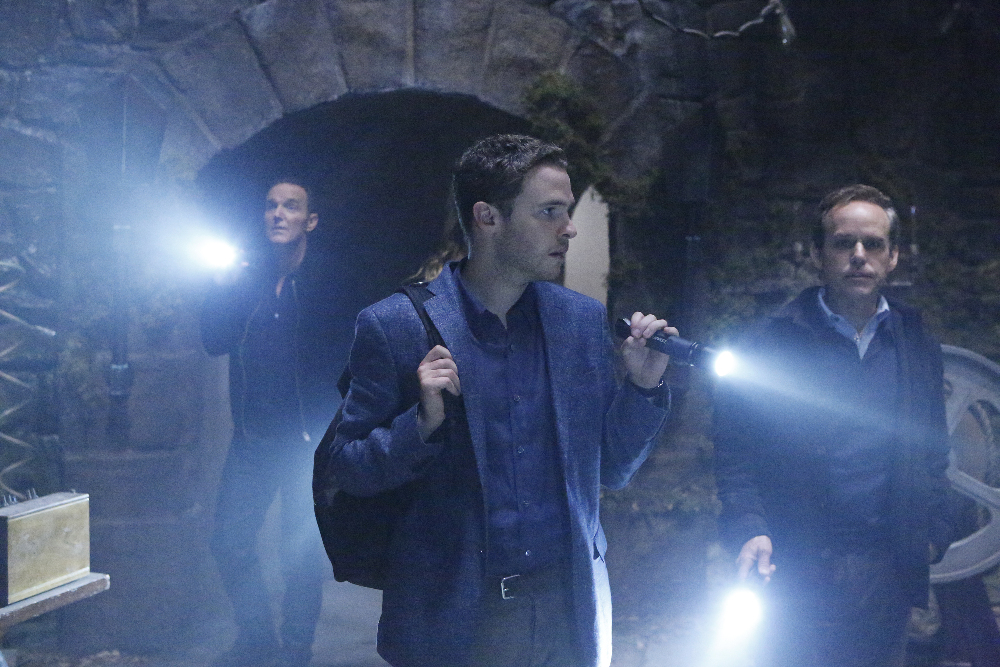 Spoiler alert! Don't read further if you haven't watched Episode 2.
Well, guess we didn't have to wait too long for more big answers!
In just the second episode, Marvel's Agents of S.H.I.E.L.D. revealed what the MIA May (Ming-Na Wen) and Ward (Brett Dalton) have been up to, and also showed Simmons (Elizabeth Henstridge) returning to Earth.
Turns out May's vacation with her ex-husband, Andrew (Blair Underwood), didn't last too long; she cut it short to help her father (played by Kung Fu Panda's James Hong) recover from a car accident in Sun City, Arizona. Meanwhile, Ward was on a mission to recruit Werner von Strucker, the son of Baron von Strucker—who passed away not-so-peacefully in Avengers: Age of Ultron—as a HYDRA agent. Strucker's first assignment? To transer into Andrew's psychology class.
RELATED:Iain De Caestecker on Doing Everything to Get Simmons Back
As for the most important moment in the ep: Fitz finally discovered the Monolith was a portal to another world—with help from returning undercover Asgardian Elliot Randolph (Peter MacNicol). Traveling to a secret castle room in England, the team tried to activate the portal. After their first attempt failed, Skye Daisy used her powers to vibrate the alien rock to the correct frequency—only to have Fitz (Iain de Caestecker) dive into the portal headfirst to get Simmons. A few tense moments ensued (involving a sandstorm on the alien planet!) before the Monolith exploded into a million pieces. But, a moment later, Fitz sat up among the rubble and pulled out an exhausted—but still alive!—Simmons.
Now that Fitz' search for Simmons has ended happily, we caught up with De Caestecker to discuss what's in store for Fitz in the upcoming episodes.
The whole scene on that other planet was so harrowing to watch. How was that to shoot?
We shot it all day, and it was tough because we had all these wind machines going and [the crew] puts sand in them. Sand gets everywhere. I'm still pulling it out of places which I shouldn't say… It was grueling, but it was definitely worth it.
Did you know that Simmons would be back this early in the season?
No. We actually do just find out episode to episode. They don't really tell us stuff too much in advance. Sometimes, such kind of stories can be drawn out longer. But I like it. It's exciting that she's coming back quite early.
How is Simmons doing? Are there any big changes in her personality?
All that kind of stuff will be explored as the show goes on. Right now, it's unsure exactly where she was and exactly what happened to her.
And what about Fitz? How's he feeling?
Relief and elation that she's alive and back.
He admitted that he loves her last episode. Will he actually tell her?
It's always been kind of hard for them to just openly explain how they feel about each other, to articulate that in the right way. They've kind of expressed [their feelings], but maybe not to each other. At the end of Season 1, Fitz did, and there was kind of a possibility of something at the end of Season 2. I think the main thing would be making sure Simmons is okay first.
Now that Simmons has returned, will Fitz be getting involved with the Inhumans storyline? He was helping Daisy with her powers last season.
Fitz has obviously been very preoccupied with Simmons and what's happened to her of late. [But] he's still part of the team, and they'll call on him when they need him. He has a role which they need to utilize sometimes.
What are you most excited about in these next few episodes?
The whole kind of Inhuman aspect of the show is something that will keep on getting explored. I'm excited to find out what happens with Simmons and where their relationship is now.
[jwplatform ehNVrN8Z]
Marvel's Agents of S.H.I.E.L.D.airs on Tuesdays at 9:00 pm ET on ABC.