6 Things to Know About the Second Season Of 'The Librarians'
Some stories are better not coming to life—something The Librarians will learn very quickly when the second season premieres on Sunday.
On the Season 1 finale of the TNT series, Flynn and his Librarians-in-training (Jake, Ezekiel and Cassandra) had found a way to bring back the missing Library and also defeat the nefarious Dulaque after he cut a hole in the Loom of Fate. But the whole gang returns—this time as full-fledged Librarians in Season 2—to save the world once again. Ahead of the Season 2 premiere, we caught up with the cast to find out what to expect this season.
1. All's not well with the Library.
"Even though the Library has returned from the void, it's 'sick,'" says John Laroquette who plays Jenkins, the caretaker of the Library Annex. "The rooms are in the wrong place. Things have disappeared. It's a mess." Laroquette adds that Jenkins will blame himself for this. "He thinks he hasn't been strong enough, that he's not been a good enough caretaker to keep the Library together."
2. There are now four Libarians…but still only one Guardian.
"She's sort of torn between running off with Flynn and remaining with the [team]," explains Rebecca Romijn of Eve's big conflict this season as she attempts to define the role of Guardian. "When she was selected by the Library, she was actually selected as Flynn's Guardian. But she did train the Librarians, so her heart lies with them as well." Romijn also says that Eve won't be playing the team leader as much this season. "We're more of a team this season."
RELATED: Watch a Sneak Peek From The Librarians Season Premiere
3. This year's villains are straight from the pages of literature.
The Librarians won't just be trying to contain the magic that escaped into the world last season; they'll come face-to-face with some of fiction's biggest bad guys, including Moriarty, the Queen of Hearts and Frankenstein. "They have certain boundaries within the narratives of their original stories, so there's some understanding of who they are and what they're trying to do," explains executive producer Dean Devlin of the villains' main arc this season. "But because they are now in a universe that they've not existed in before, rules start to get broken. It's [about] trying to figure out what they're doing and how they're going to do it." Devlin says the bad guy the Librarians should fear the most this season would be none other than Shakespeare's Prospero, from The Tempest. "He's a master wizard, so he knows how to use the very same magic that our heroes have been relying on to defend themselves."
4. Jacob Stone will no longer be a mystery.
Fans looking for more backstory on the Librarians' resident poetry-spouting cowboy will have to look no further than season's second episode, which sees the team take a trip to Jake's hometown. "[He's] not the Jake Stone that's in the Library," says Christian Kane. "When he goes back he even talks different. It's a lot of weight [on his shoulders] because he's around family."
RELATED: The Librarians Return to Face Literature's Greatest Villains
5. Things get (time) loop-y for an episode.
One of the episodes this season will see the team get stuck in a time loop, and John Kim says it will allow Ezekiel Jones to save the day. "For the first time ever, you're going to see his leadership qualities," says Kim. "He always had [them] but he didn't necessarily know he did."
6. Santa Claus almost returned this season.
Ash isn't just putting away the Evil Dead, he also kept Santa at bay. Devlin says that they'd actually planned an episode featuring the return of guest star Bruce Campbell's Santa Claus character from last season. "We actually broke a story, because he wants to come back and we want him to come back. But his series literally started the same exact time ours did. His last day of shooting was the second to last day of shooting our show. So we couldn't get it in. Hopefully we can stagger next year and get him back. If he didn't have that other show, I'd actually pitch a spinoff of that character, I liked it so much."
Season 2 of The Librarians premieres Sunday, Nov. 1 at 8/7c on TNT.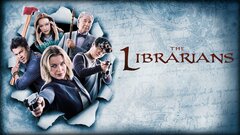 Powered by