'The Librarians' Stumble on Something Wicked in New York City (VIDEO)
Fans of The Librarians need not worry. The save-the-world-from-black-magic gang is back together after six months of solo adventures, as foreshadowed in last season's finale.
Well, mostly solo.  Senior Librarian Flynn (Noah Wyle) and the team's guardian Eve (Rebecca Romijn) actually went on a lengthy round-the-world sort of date.
When the family-friendly romp returns for Season 2, the odd couple, plus Librarians-in-training Jake (Christian Kane), Ezekiel (John Kim) and Cassandra (Lindy Booth) reunite at a  Manhattan museum, each having been sent for different reasons by the clippings book, the artifact that generates news of eerie doings that require investigation.
The fight against supernatural evil will quickly need all the help it can get as fiction's greatest villains begin to come alive and wreak the havoc that lovers of Shakespeare, Mary Shelley and Sherlock Holmes will quickly recognize. Check out an exclusive sneak peek of the series before it returns.
The Librarians, Season premiere, Sunday, Nov. 1, 8/7c, TNT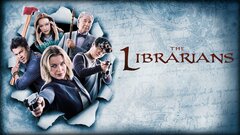 Powered by