WATCH: Kelly Takes a Beating to Protect 'The Orville'
No good deed goes unpunished and the crew of The Orville learns that the violent way tonight. In the hour, entitled "If the Stars Should Appear," Ed (Seth MacFarlane) and company try to help a seemingly disabled vessel on a collision course with a star, only to fall prey to the ship's evil commander.
How do we know he's evil? Well, he's played by Prison Break's Robert Knepper, who is so good at being bad. In this exclusive clip, he and his goon take turns beating Kelly (Adrianne Palicki) for info on the gang's whereabouts. And while Kelly does get in a few good burns, including a nice Friends joke, it's pretty much a given than even in the future, hitting a woman is a sure sign of someone being the absolute worst.

The Orville, Thursday, 9:01/8:01c, Fox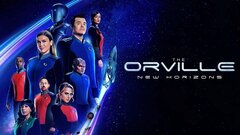 Powered by