New 'Prison Break' DVD Offers Glimpse Behind the Scenes of the Event Series (VIDEO)
Prison Break fans, if spring's event-series reboot wasn't enough to feed your need for all things Scofield and C-Note, mark your calendar for Tuesday, June 27, when Fox Home Entertainment releases the nine-episode pulse-pounder on Blu-Ray and DVD. Also on Tuesday, the Prison Break Collector's Set Blu-ray will be released.
The latest Prison Break outing — which arrived some eight years after the original Fox series ended — featured the resurrection of Wentworth Miller's Michael Scofield, who was discovered not in his grave, but in a Yemen prison, much to the shock of everyone around him, especially his now-remarried wife Sara (Sarah Wayne Callies). Determined to rescue his brother, Lincoln Scofield (Dominic Purcell) enlists C-Note's (Rockmond Dunbar) help — but after so much time, will Michael be the same man they knew?
The Prison Break Event Series Blu-Ray and DVD also features a special, behind-the-scenes look at the making of the event series, and TV Insider has an exclusive sneak peek at this featurette, called "A Return Home: The Making of Prison Break Event Series — A Global Adventure."
In the clip, Prison Break creator and executive producer Paul Scheuring explains why the production traveled the globe to tell its tale, including an extensive shoot in Ouarzazate, Morocco, which stood in for Yemen. Stars Inbar Lavi—who relished shooting in her grandparents' homeland—and Wentworth Miller chime in, with Miller marveling at Prison Break's popularity in the North African country.
If that's still not enough to satisfy your Prison Break obsession—or you're a newbie ready to discover the iconic series—Tuesday also marks the arrival of the Prison Break Collector's Set Blu-ray featuring all four seasons of the original, chronicling Michael and Lincoln's entire journey, plus the event series and these additional features:
Audio Commentaries
Alternate / Deleted Scenes
Making of Prison Break
If These Walls Could Speak
Beyond the Ink
Behind-the-Scenes Featurettes & Interviews
The Plan, The Execution and The Bullet
Director's World
Fade Out: The Final Episode
Prison Break Event Series, Available Tuesday, June 27, on Blu-ray and DVD
Prison Break Collector's Set Blu-ray, Available Tuesday, June 27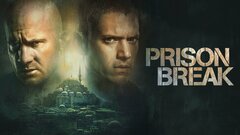 Powered by