First Look: Christina Applegate Gets With 'The Grinder' (PHOTO)
As former TV lawyer Dean Sanderson (Rob Lowe) adjusts to life in his hometown of Boise, Idaho, he seeks out his high school sweetheart, Gail (Christina Applegate), in the November 3 episode of the Fox comedy.
RELATED: Guess Who's Coming to Your Fave Fall Shows?
"Dean hopes that he's found the woman with whom he can start a family," say executive producers Andrew Mogel and Jarrad Paul. An added bonus for Dean: Gail has never seen his legal procedural. "For Dean, it's refreshing to date someone who knew him before he was the Grinder and likes him for who he really is."
[jwplatform k32Wqkag]
The Grinder, Tuesdays, 8:30/7:30c, FOX
---
Questions? Ask Critic Matt Roush!
TV critic (and occasional TV therapist) Matt Roush answers viewer questions and concerns in his Ask Matt column each week. Wondering about plots, characters and twists on your fave shows? Submit your query to Matt via the form below: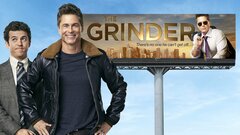 Powered by