Tina Fey's Guest Role on 'Great News' Felt Like a Homecoming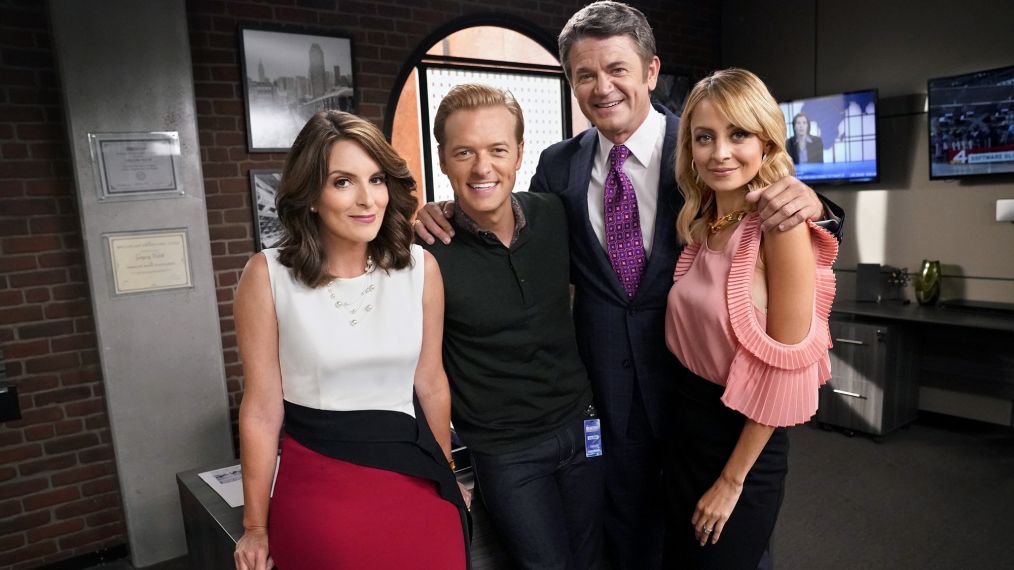 Talk about Great News. Not only did the workplace comedy—centered around ambitious cable news producer Katie Wendelson (Briga Heelan) and her interning mama, Carol (Andrea Martin)—land the post–Will & Grace spot on NBC's revamped Thursday-night lineup in its second season, but the winning sitcom also scored a headline-worthy guest arc from executive producer Tina Fey.
"There were a couple of strings that we wanted to pull from Season 1," says showrunner Tracey Wigfield (an Emmy-winning writer on 30 Rock), during a break on the series' expansive, two-level L.A. set. "One is that the news team broke this big hacking story in the season finale and ousted the president of the network. This left a hole, like, 'Who's in charge now?' And then Tina so graciously offered to do a guest spot as the new boss—I have no idea why!"
"I hadn't done any series TV in a while, and I know so many people [on News] that I figured it'd be fun," says Fey as she preps to shoot the first scene of her three-episode arc. "I know some of the writing staff, I know the assistant director, the director and Horatio Sanz [who plays video editor Justin], who was on SNL with me. It's like old home week."
However, her Diana St. Tropez could wind up fracturing the family unit at fictitious minor-league cable network MMN. "She's a big-time CEO of a much larger company that owns MMN, and she's come in to shape up the place, to help it embrace where America is at right now with its relationship to 'fake news,'" Fey explains. More Jack Donaghy than Liz Lemon in 30 Rock, St. Tropez will at least have one fan in Katie, an aspiring acolyte of the mogul's business bibles, one entitled Boardroom Bitch.
"She's obsessed with Diana and her book," Heelan says. "Because it's everything that Katie is inherently not and can't do and is struggling horribly to be. I imagine her reading it under the covers alone and crying at night."
Not so sold on St. Tropez is Katie's epically meddling mom—and perhaps the media's oldest living intern—Carol, especially after Diana offhandedly inspires Katie to freeze her eggs and focus on work. While that means no grandkids for a bit, Martin reveals that Carol's maternal instincts will get a new target later in the season when she takes over as head of the interns. "I love that," Martin says. "I can totally see Carol using her motherly wisdom in a business she doesn't know anything about."
It's not just the mother-daughter duo being rocked by St. Tropez's bossiness: Breakdown anchor and social-media darling Portia (Nicole Richie) will butt heads with the new head honcho, leading to a squad feud complete with a diss track called "Wash Dish Bish" for Richie. The song is penned by Fey's husband and News' composer, Jeff Richmond, who directed the episode and also cranks out uproarious tunes for the Fey-produced Unbreakable Kimmy Schmidt. But don't worry, Taylor Swift; nobody is out for bad blood here. "It's wholly original, not a parody," Fey promises.
She also vows that her return to workplace comedy has not changed her mind about rebooting 30 Rock, despite NBC Entertainment chairman Bob Greenblatt's desire for more. "It's so tempting, but I think it would be really hard," Fey resolves. "I'd like them to air the original episodes in primetime again, because nobody saw them the first time anyway." Now that would be more Great News.
Great News, Thursdays, 9:30/8:30c, NBC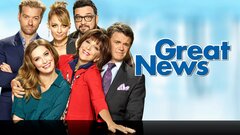 Powered by