First Look: Tina Fey's Arrival Is 'Great News' for NBC's Comedy (VIDEO)
Step away from your sheet cakes and set your DVRs for the return of Great News. Because as we have reported earlier, Tina Fey is coming to MMN for the second season's first three episodes, and she's not suffering any fools. Which is gonna be quite a challenge, given the goofball staff of the comedy's central news show, The Breakdown.
"She thinks the show could be a lot better," says executive producer Fey of her character, CEO and author Diana St. Tropez. As the new owner of MMN, it's St. Tropez's goal to get the failing cable news channel out of the ratings dumper and into the national spotlight. Along the way, she will also unsettle her new minions with her no-b.s. approach to getting the job done.
"She has a thing in one of her fictitious books about listening like a man, which is a real thing." the Emmy winner continues. "Women, when they listen, are much more likely to nod and say 'mm-hmm' and give supportive cues like that, and men don't do that. Diana listens like a man, and it's chilling."
Here is your first look at Fey's arrival at the station, along with some behind-the-scenes shots from her three-episode appearance.

Should St. Tropez return for more episodes, Fey hints that it would be on better terms. "When she first gets there she thinks it's kind of behind-the-times, but by the time she leaves later in the season, she's very impressed with the staff as a group of human beings and how they relate to each other."
So does this mean the unemotional mogul is humanized by Katie (Briga Heelan), Carol (Andrea Martin) and company?
"Well, Diana observes that they're quite human," she laughs.
Great News, returns Thursday, Sept. 28, 9:30/8:30c, NBC.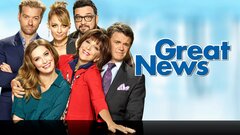 Powered by