'The Walking Dead' Preview: Andrew Lincoln on 'Bold and Different' Season 6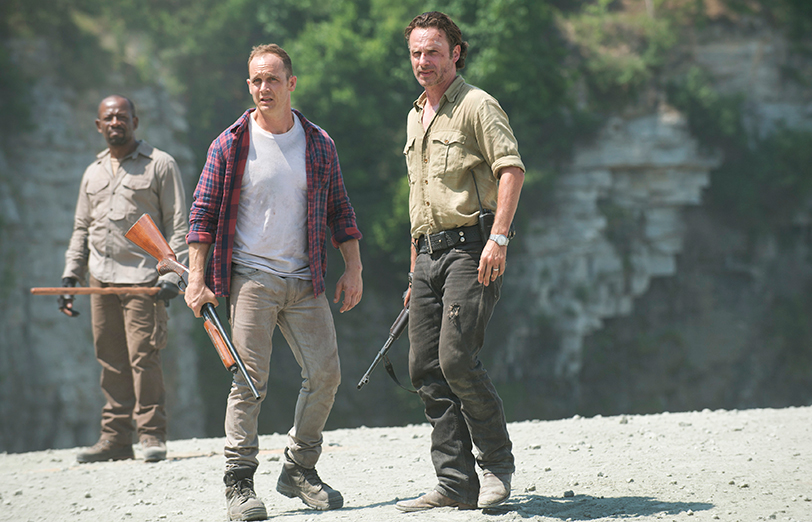 Is Alexandria facing a new Ricktatorship?
Last spring, The Walking Dead's fifth season ended with a town hall meeting from hell. After constable Rick Grimes (Andrew Lincoln) presented Alexandria's citizens with the corpse of a walker that had breached the Safe Zone, temperamental Alexandrian Pete (Corey Brill) accidentally killed Reg (Steve Coulter), the husband of leader Deanna (Tovah Feldshuh), who then ordered Rick to execute Pete on the spot. The final seconds of the season finale also featured the long-awaited reunion between Rick and Morgan (Lennie James), who was the first survivor Rick met after waking from his coma in Season 1.
RELATED: How The Walking Dead hid Lennie James to keep Morgan's arrival a secret
When the AMC drama returns for a sixth season on October 11, Rick must unite his group with the residents of Alexandria in order to protect the town from new threats lurking outside the walls. We caught up with Lincoln to get his thoughts on the unconventional season premiere, the new dynamic between Rick and Morgan, and the possibility of romance in the middle of the zombie apocalypse.
Where do we pick up in Season 6?
This is very much a direct pickup on where we left Season 5. But I would say the scale of the threat is far greater than we've ever faced in many ways. I also think that this is a story about us and them in all manner of shapes and forms—inside and outside the walls—and whether or not we can become one. Episode one is a monster movie. We're doing Godzilla. You learn a heck of a lot character-wise, but it's almost like a chamber piece because we're playing with time and Rick is the clock face. You get to understand time through Rick and where we're at in the story. It's almost like Memento. It's very bold and different.
How would you describe the Rick of Season 6?
He is the self-appointed general of the community. His concerns are purely the safety of his people. I think there will be differing opinions on Rick's mental stability depending on who you are. It's very easy just to call him crazy. This is a man that has seen a great deal of trauma, lost a lot of people that he loves, and he's not willing to put their lives in jeopardy anymore. So you see a man in action. If he thinks something needs to be done for the safety of his friends and family, then he will do it. That's one of his great strengths, and also his Achilles heel. Once he gets something in his head and he thinks it's right, he won't back down.
What is Rick's relationship with Deanna like this year?
It's complicated and strange. She's dealing with a great deal of trauma having lost two people—her son and her husband—in very close succession. She is in shock, and lot of his relationship with Deanna is trying to help her lead because he realizes the importance of her as a leader for the other side of the community. There's always been an understanding and a great respect between the two leaders, but there's a leadership vacuum left by her grief that needs to be filled.
RELATED: First Look Photo: Michonne Preps for Battle
How does Morgan's reappearance affect Rick?
A lot of our scenes are about sizing each other up. There's a dance going on. These are two men that know each other, but don't know each other. There is great tension between the two. There is also a huge amount of respect and compassion between the two men.
What's it like for you to work alongside Lennie again?
It's f—ing great to have Lennie James back, are you kidding me? It's the f—ing greatest! He is such a great leader and amazing actor, but also just to have that history back on. These two characters have a shared history. To be able to communicate with somebody who knows you and knows your past opens you up in a different way. It's been such fun to have him here, and I think he's having just as much fun as I am.
What does the future hold for Rick and Jessie (Alexandra Breckinridge)?
Well, dating in the apocalypse is hard in the best of times, but executing the husband of a potential girlfriend is difficult. [Laughs] Jessie has been instrumental in Rick understanding the potential for a restart in Alexandria, and I think that it's complicated. She's opened Rick up to a part of himself that he hasn't been in contact with for a long, long time. Those two characters definitely recognize one another's strength, but also are attracted to one another. So I think that there is potential.
What else can you say about the threats this season?
I talked to [showrunner] Scott [Gimple] and he said, "You know, for a few seasons it's been more character and more about survival and the human threat." So I heard in the writer's room, he went, "I don't know if anybody's forgotten, but we're a zombie show, so let's not avoid that fact or apologize for anything." This is a freakin' zombie show and we're going to throw as many zombies at you guys as you can possibly stomach, especially within the first 40 seconds of the return.
More Walking Dead Cast Interviews: Lennie James | Lauren Cohan | Michael Cudlitz | Norman Reedus | Sonequa Martin-Green
[jwplatform EuB18wde]
The Walking Dead premieres Sunday, October 11 at 9/8c on AMC.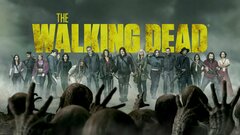 Powered by