'MasterChef' Preview: The Pressure's on When There's Kin in the Kitchen (VIDEO)
After 17 episodes of brutal competition and months away from home, this season's MasterChef contestants are understandably feeling drained. But inspiration comes to the kitchen in the form of their families, who stop by to serve up helpings of support and encouragement to the top 6.
In this exclusive clip from the Sept. 13 episode of MasterChef, the remaining contestants have to cook a dish inspired by their families, while their families watch from above! No pressure.
Take a look:
There is nothing sweeter than watching the reunion of loved ones. But these tearful reunions can't put the home cooks off of their game — there is still an elimination looming, and a massive cash prize and the title of MasterChef at stake!
Then, in the night's second episode, the remaining home cooks will face a series of skills tests that will determine who makes it to the season finale.
MasterChef, Wednesdays at 8/7c, Fox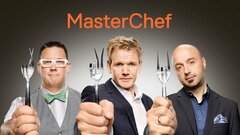 Powered by