Everything's Ducky—or Is It?—as Gordon Ramsay Kicks off Season 8 of 'MasterChef'
Duck for cover! Celebrity chef and professional hothead Gordon Ramsay is back with Season 8 of his Fox hit MasterChef (Wednesday, May 31, 8/7c), airing right before the premiere of his new series The F Word with Gordon Ramsay (9/8c). This season, award-winning chef Aarón Sánchez joins Ramsay and Christina Tosi as a judge.
The MasterChef season opener includes a quickie master class from Ramsay in how to prepare a perfectly seared duck breast. But will this season's eclectic group of home cooks—among them, a dentist, a minister, a swimsuit model, an addiction counselor, a wedding singer and a debt collector—be able to duplicate the mouthy maestro's culinary expertise? Or will they be sent home crying for their mamas?
The grand prize is $250,000—more than enough to cover the winner's therapy bills after getting yelled at by Ramsay all season!
Watch Ramsay show you how to get that duck just right in this exclusive preview of MasterChef Season 8:
MasterChef Season 8, Wednesdays at 8/7c beginning May 31, Fox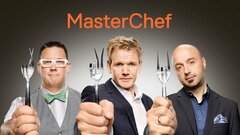 Powered by