First Look: 'Hell's Kitchen' Brings the Heat With Its First All-Stars Season
Hell's Kitchen returns for Season 17 on September 29 on Fox, and this season is sure to be a fiery one.
For starters, the set is "completely redesigned," as head chef and exec producer Gordon Ramsay notes in the exclusive promo video below. The changes aren't all aesthetic either, as this marks the Fox competition series' first all-stars season where Ramsay personally invited back former seasons' black jacket recipients (competitors who made it to the Top 5-6 of any given season).
The returning chefs include: Robyn Almodovar (Season 10), Dana Cohen (Season 10), Elise Harris (Season 9), Barbie Marshall (Season 10), Ashley Nickell (Season 15), Jennifer Normant (Season 9), Amanda Palomino (Season 15), Michelle Tribble (Season 14), Jared Bobkin (Season 15), Nick Peters (Season 14), Giovanni Filippone (Season 5), Van Hurd (Season 6), Benjamin Knack (Season 7), Milly Medley (Season 14), Josh Trovato (Season 14), Ben Walanka (Season 5).
The winner of this season will be given the opportunity to launch a new Hell's Kitchen-themed restaurant in Las Vegas. It'll be interesting to see how these chefs handle the heat when they return to the Hell's Kitchen set, especially since former competitors will find themselves head-to-head with chefs they've worked with in previous seasons. After all, hell hath no fury like a chef scorned.
Check out the exclusive video below:
Hell's Kitchen All-Stars, Season Premiere, Friday, Sept. 29,  8/7c, Fox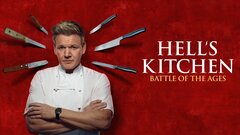 Powered by