Michael Weatherly on 'Bull', Dr. Phil and Not Taking Himself Seriously
Michael Weatherly is messing around—again. The crew of his new legal drama, Bull, is busy putting the finishing touches on a fake courtroom on the show's Queens, New York, set. So it probably doesn't help that their star and producer is dragging (sometimes almost literally) a reporter over the wires and under the cameras on a frantic, ad hoc tour of the soundstage.
Spending the day with Weatherly practically requires its own unique skill set. One must be energetic. One must be flexible. And if you giggled at the unintended sexual connotations of those last two sentences, then you already have the right sense of humor to hang with him. His quick wit can be dry, highbrow, lowbrow, slapstick, snarky, bawdy and self-referential. This is, after all, the man whose visage currently appears on ads with the tagline "He'll get you off," alluding to his character, psychologist and trial consultant Dr. Jason Bull.
RELATED: Michael Weatherly Returns to CBS as a Dr. Phil-Style Jury Consultant
"When I saw those billboards, I thought it was hilarious," he admits, deftly ducking to avoid a prop sconce. "It was a cue to relax and not take myself seriously. Albeit also a somewhat inelegant double entendre that continues to mystify my mother. She keeps asking me, 'What does it mean?'"
Not taking himself seriously is something Weatherly does, well, seriously. "My wife is a physician," he says, referring to his partner of seven years, Bojana Jankovic, a doctor at Cedars-Sinai Medical Center in Los Angeles. "She finds it hilarious how importantly people take show business. I do that sometimes, but I also try to have as much fun as I can. At the end of the day, we're just making a TV show."
But that doesn't mean he won't work hard. Any actor who goes from a 13-year stint on a huge series like NCIS, which filmed 24 episodes a season (the usual is 22), right into another demanding show has some real work ethic. And as NCIS fan fave Tony DiNozzo, he shared the on-screen burden with several other actors—who were all secondary to Mark Harmon's boss man Gibbs. Here, Weatherly is the Gibbs. And it's paying off: The show, which premiered on September 20, pulled in the same massive numbers as his previous longtime hit.
Bull is the brainchild of psychologist Phil McGraw (yep, that Dr. Phil) and his son Jay, who based the series on the former's early career as a trial consultant. Like McGraw, Dr. Bull has a team of experts—lawyer Benny (Six Feet Under's Freddy Rodriguez), ex-cop Danny (Jaime Lee Kirchner), stylist Chunk (Christopher Jackson), hacker Cable (Annabelle Attanasio) and neurolinguistics expert Marissa (Geneva Carr)—with whom he travels the country helping defendants plead their cases more effectively using high-tech research, behavioral cues, jury analysis and the occasional makeover. But Weatherly says the similarities between Bull and McGraw stop at their chosen career.
"The biggest mistake everyone makes is that I'm playing Dr. Phil," he points out. "Others have called the series 'inspired by' Dr. Phil, which I also don't get." McGraw, he says, is more of a tech adviser. And to Weatherly, this is a very important distinction, because it manages expectations. "I've heard people go, 'I watch it thinking of Dr. Phil,'" he says. "Well, if I gave you a glass of orange juice but told you it was milk, it would taste funny to you, right? I don't want audiences to have preconceived notions." Especially since Bull is hardly a straight shooter. The clue is in the name. "It's not called Mr. Earnest, you know? There's an element of a snake-oil salesman to him," he says. "Even I'm not sure when he's bluffing."
McGraw himself has a simpler way of explaining the gulf between his life and what's on screen. "Michael and I look exactly alike, don't you think?" he jokes. "Our ears pricked up when we heard Michael was done at NCIS. We went after him with a vengeance. Much of what you see is stuff he does instinctively. His ad-libs are so rich—they're the character's best part."
Weatherly's own inspirations for Bull are also far from Dr. Phil: Marcello Mastroianni in 8½, Warren Beatty in Reds and Michael Caine in almost anything. "I love Caine," he says. "He's a nerdy guy who would knock your f—ing head off."
That's another thing about the actor: He's got serious knowledge of pop culture. In one sitting, he mentions The Good Wife, Body Double, Bonanza, Tina Fey, Bridget Jones, Alfred Hitchcock and W.C. Fields. You can't help but ask if the man sleeps. He won't say it, but it is a hard life, especially now that he shuttles weekly between New York and his family in California. "I called home today and my 2-year-old son answered dressed as a dinosaur—tail, scales, everything," he recalls, showing photos on his iPhone. "I said, 'Are you going to school like a dinosaur?' He goes, 'Yes.' And he wouldn't let my wife take the costume off. Like father, like son."
RELATED: Michael Weatherly's Farewell to NCIS's Tony DiNozzo: 'I Was a Mess'
In the episode filming today, Bull's team helps a young scientist take on big pharma in a patent case. Their tactic: Appeal to the small-town jury by hiring local nice guy Merle Deavers (Joe Tippett) as her lawyer. Says Bull, "Everybody loves Merle."
It's more like everybody loves Michael Weatherly. Just ask his costars. "He's selfless, he's humble," says Rodriguez. "Coming from a hit like NCIS and having his face plastered all over town, he could easily be the opposite. But he's aware of being our leader and sets a tone that really works." Which is something Weatherly loves to hear. "Lately, I've realized that when I would goof around on the set of NCIS, as an actor I was bucking the system," he admits at the day's end, "but now I am the system. The danger of hubris, it lurks! Maybe that's why I'm always taking my pants off."
Bull, Tuesdays, 9/8c, CBS.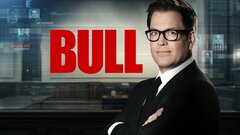 Bull
where to stream
Powered by