What Makes the 'Gotham' Cast Nerdy 'and' Smart (VIDEO)
https://player.waywire.com/?id=N474VL21JDTSWDSC
Bruce Wayne may still be years away from becoming Batman, but could he be steps away from finding a certain cave?
Season 2 picks up right where the finale left off, with Bruce finding "a remote inside his father's study," said David Mazouz, who plays young Bruce. "The fireplace moves and there's a staircase," a discovery that will help him learn more about his father. And the surprising find may come at a good time, as "a lot of recognizable villains…take over Gotham," revealed Morena Baccarin (Dr. Leslie Thompkins).
RELATED: Check Out New and Returning Fall Shows
Outside of work hours, here's how the cast spends their time: Cory Michael Smith (Edward Nygma) cops to reading the Huffington Post and The Wall Street Journal while Mazouz confesses to playing games on an app called Geometry Dash. "That's mad! That's school! …We are so nerdy and so smart," laughed Smith, over their serious answers.
Watch the video to learn what shows the Gotham cast would like to guest star on (Sean Pertwee and Smith both voted for Bloodline) plus the one thing that Baccarin always checks in the morning.
Gotham, Season premiere, Monday, Sept. 21, 8/7c, Fox
More Gotham Features
---
Questions? Ask Critic Matt Roush!
TV critic (and occasional TV therapist) Matt Roush answers viewer questions and concerns in his Ask Matt column each week. Wondering about plots, characters and twists on Gotham? Submit your query to Matt via the form below: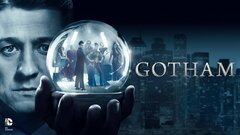 Gotham
where to stream
Powered by