The Rise of 'Gotham's Villains: A Who's Who of the Most Wanted
Rise of the Villains is the theme for Season 2 of Gotham. So expect old baddies to resurface and new troublemakers to pop up with one goal in mind: to create mayhem. No doubt the newly-demoted Jim Gordon and the remaining Gotham police force will have their hands full.
RELATED: Enter for a chance to win "Gotham: The Complete First Season" on Blu-ray!
Before the show returns on Monday, Sept. 21, look back at some of the usual suspects sizing up Gotham's most wanted list.
CARMINE FALCONE
Played By: John Doman
Major Crimes: Ordered Det. James Gordon (Ben McKenzie) to assassinate baddie Oswald Cobblepot (Robin Lord Taylor); arranged the beating of mafiosa Fish Mooney's (Jada Pinkett Smith) lover; choked poor, sweet Liza (Makenzie Leigh) to death.
Menace to Society: In the season finale, the mob kingpin told Gordon he wanted to retire, but "who could say for how long?" exec producer Danny Cannon teases. Still, Falcone might be right to give up on the city. "Trying to control Gotham is like trying to control the weather."
IVY PEPPER
Played By: Clare Foley
Major Crimes: Aside from being a ratty fashion criminal, the Little Red Runaway hasn't done anything illicit. Yet.
Menace to Society: Get ready for Ivy to post a bigger threat as Season 2 progresses. After all, there's a reason the plant-loving moppet and her fellow teen runaway Selina (Camren Bicondova) connected with Gordon's unstable ex, Barbara (Erin Richards), since she took them in. "They recognize something damaged in each other, and that makes them kindred spirits," Cannon says. Those who chill together kill together?
OSWALD COBBLEPOT
Played By: Robin Lord Taylor
Major Crimes: Played Fish, Falcone and mobster Sal Maroni (David Zayas) against one another to start a turn war; murdered a deliveryman; deals with daily bedhead.
Menace to Society: For the self-declared King of Gotham, it's a good time to be the Penguin ("He's spent all of his life up to this point being looked down upon and used," Taylor says) and a scary time to be his enemy. "Oswald enjoys power, and pain is a tool that he uses to keep it." But will he be able to hold on to it in Season 2?
EDWARD NYGMA
Played By: Cory Michael Smith
Major Crimes: Fatally stabbed officer Tom Dougherty (Zachary Spicer), the abusive beau of his office crush, Kristen Kringle (Chelsea Spack); speaks in infuriating brainteasers.
Menace to Society: Less a menace in Season 1 than the Penguin or Gotham's gaggle of mobsters. Nygma's embryonic Riddle is among "the villains waiting in the wings for later stardom," says executive producer Bruno Heller. And now that the creepy coroner has a homicide under his belt, Cannon says, "it will be hard for him to quell that urge" to kill again.
SELINA KYLE
Played By: Camren Bicondova
Major Crimes: Pushed Reggie (David O'Hara)—the guy who stabbed Alfred (Sean Pertwee)—out of a window; pick-pocketed Wayne Enterprises bigwig Sid Bunderslaw (Michael Potts); sided with Fish against Gordon.
Menace to Society: This kitten has claws. Despite her friendship with young Bruce Wayne (David Mazouz), her antics hint at the Catwoman she's to become. "Selina and Bruce have a long journey ahead of them," executive producer John Stephens says. "Their relationship is one of coming closer, then moving
JEROME VALESKA
Played By: Cameron Monaghan
Major Crimes: The bastard child of a blind psychic, the carny kid offed his circus-performer mother and morphed into a cackling crazypants during his confession.
Menace to Society: Many fans suspected the Shameless vet was supposed to be the future Joker, and EP Bruno Heller has pretty much verified that Monaghan will indeed play a role in that ubervillain's origin story in Season 2. Whether or not he's the actual Clown Prince of Crime remains to be seen, but he crashed the show's Comic-Con panel fora bit that hinted at Jerome's escape from Arkham Asylum.
BARBARA KEAN
Played By: Erin Richards
Major Crimes: Jim's bisexual ex-fiancée gave in to her dark side during her affair with the serial killer Ogre (Milo Ventimiglia), going so far as to kill her own parents under his sway. She then tried to slice and dice Jim's new love (Morena Baccarin) before being carted off into custody.
Menace to Society: Who knows what this one is capable of. In the Batman mythology, she's Batgirl's mother, but Mad Babs' inclusion on the show's Comic-Con "Villains" bag means she's probably going become a very bad influence on Selina and Ivy.
DR. FRANCIS DULMACHER
Played By: Colm Feore
Major Crimes: Kidnapping; harvested organs on the black market; performed nightmarish surgical experiments.
Menace to Society: If the mad scientist who kept Fish hostage on his island compound survived that prisoner revolt, he could cause a lot of trouble come Season 2. Especially since Gordon has no idea he's even out there. "There is so much Jim doesn't know," says Cannon. "And with Gotham spiraling out of control, it just allows for the most daring to rise—and shine the spotlight on themselves."
RELATED: First Look of the Hidden Lair | Chamber of Secrets | (Video) Gotham Cast | Go Behind the Scenes | 8 Burning Questions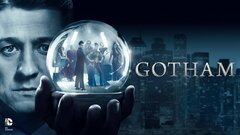 Gotham
where to stream
Powered by