The 'Gotham' Stars Reveal the Surprising Alliances That Will Form in Season 2 (VIDEO)
https://player.waywire.com/?id=4BWBWW1GKTV73BC0
Gotham is oftentimes a grim, gritty, and gruesome show, and season 2 may stay the course. But the cast kept things light when they boarded the TV Guide Magazine/TV Insider yacht at Comic-Con to share what's in store for their characters.
Expect the show to move away from a crime procedural element and toward deeper story arcs. Both Bruce Wayne and Mr. Nygma are set on discovering what it means to be a man, and both Jim Gordon and Selina Kyle will partner with unlikely allies.
Despite the tough challenges and villains ahead, the cast agreed on one thing: no one on Gotham would last against Empire's toughest Cookie.
RELATED: More Comic-Con Features | Video chats with the casts of The Flash, Arrow, Grimm, and more.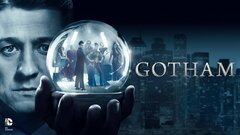 Gotham
where to stream
Powered by