What Secret Chamber Lies Beneath Wayne Manor in 'Gotham'?
Welcome to the original man cave. In the final moments of Gotham's first season finale, young Bruce Wayne (David Mazouz) and his loyal butler, Alfred (Sean Pertwee), uncovered a device that cracked open a secret entrance behind the fireplace in the mansion's study. Where did it lead?
All viewers got was a quick peek at steps descending into darkness and what sounded like wings flapping. Hmmm…
"We're going to call it the Father's Office," reveals production designer Richard Berg of the newly discovered chamber, which is destined to become the you-know-what cave. "We're about everything that happened before that famous story began," Berg says, explaining that this version of the hideout was "conceived as Thomas Wayne's private workspace, full of secret files. There is no evidence of anything Batman-like. There's no special weaponry, no computers, nothing of that sort."
And since, like Gotham itself, Berg's concept is meant to tell the cave's origin story, he's not beholden to any previous incarnations from comic books, TV, or film. "It's rare in one's career that you get to design something quite this iconic without actually having a set design that you are supposed to fall into," he says.
Housed inside the show's Brooklyn soundstage and made of carved foam and covered wood, this take on Wayne Manor's subterranean space is more Prohibition-era cellar than sleek vigilante lair. But Berg promises a few nods to the cave's future functionality to satisfy those keen-eyed fans and the often-vocal "generations of Batman connoisseurs," as he calls them:
"I don't want to blow it or take them into a place that is completely unfamiliar."
We'll have to wait until Season 2 to see the end result, but Berg vows that Bruce's new secret spot will be in line with the show's signature style. "It's overscale, it's dark, it's hard. It's Gotham."
More Gotham Features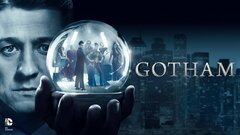 Gotham
where to stream
Powered by