Hulu's 'Casual' Key Art Shows a 'Very' Close Family
In Hulu's upcoming dark comedy Casual (from producer Jason Reitman and creator Zander Lehmann), brother-sister pair Alex (Tommy Dewey) and Valerie (Michaela Watkins) are pretty close, even for siblings. They go on dates at the same restaurant, they trade sometimes-graphic stories while drinking heavily, and now they live together—Valerie and her daughter (Tara Lynne Barr) have just moved in with playboy Alex after her divorce. Check out the exclusive key art below.
Casual premieres Wednesday, October 7 on Hulu.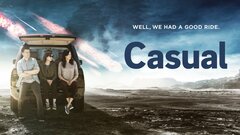 Casual
where to stream
Powered by