Get Set to Time Travel on 'DC's Legends of Tomorrow' (VIDEO)
https://player.waywire.com/?id=JB67HR2DWP5Y2R5L
With returning superhero shows in its fall TV arsenal, The CW will be launching yet another highly-anticipated midseason show: DC's Legends of Tomorrow. "It's years and years of comic book heroes on paper and on film and in cartoon form… It's cool to be part of the creation," shared Brandon Routh, who plays Ray Palmer (and his alter ego, the Atom).
The cast, most of whom started out on either The Flash and Arrow, sat down to talk about what viewers can expect. "There's going to be time traveling on our show," Routh revealed. "There is ample opportunity for us being thrust into crossovers with time." (Which means Legends would be the perfect crossover show with Doctor Who…especially since Arthur Darville, who was the Eleventh Doctor's companion, is also a time traveler on Legends.)
To be sure, there will be plenty of crossovers with The Flash and Arrow, and plenty of saving the world. Watch the video above as the cast also discusses other shows that would be perfect crossovers, plus the series they're binge-watching on their own.
More DC's Legends of Tomorrow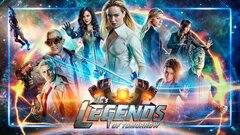 Powered by