Heroes and Villains Work Together in 'DC's Legends of Tomorrow'
Get ready for a Rip roarin' time!
In DC Comics' next TV adventure, time-traveling genius Rip Hunter is rounding up a roster of the good, the bad, and the gorgeous to save the world. And you already know most of them.
"In our minds, it's the first modern-day superhero team-up show," explains executive producer Greg Berlanti, who, along with his Arrow and Flash brain trust (Marc Guggenheim and Andrew Kreisberg), has created DC's Legends of Tomorrow. The splashy new spinoff follows Hunter (Doctor Who's Arthur Darvill), an inventor from the future, as he recruits a roster of familiar faces from the trio's existing CW hits.
Among the heroic faves are Brandon Routh's Ray Palmer (the Atom), Caity Lotz's Sara Lance (who was murdered on Arrow last season but is being resurrected as White Canary), and Victor Garber's Dr. Martin Stein (one half of Firestorm), along with rogues like Wentworth Miller's Captain Cold and Dominic Purcell's Heat Wave. New to the crew are Broadway vet Ciara Renée, whose Kendra Saunders is best known as the frequently reincarnated Hawkgirl, and Attack the Block's Franz Drameh as Jay Jackson, whose alter ego has not yet been revealed. "There is an epic quality when you put all of these characters together," Berlanti says. "It feels like when we do the Arrow-Flash crossovers, but every week!"
Leading the team is Hunter, a character created by the late, great Jack Kirby back in 1959—and he's got his work cut out for him. "The [fun] of this show is watching how all of these completely different heroes and villains will interact with each other," Guggenheim says of the brewing clash of comics titans. "Hawkgirl has all manner of issues because of her past lives [a thread from the comics], White Canary will be dealing with the ramifications of her resurrection [thanks to the Lazarus Pit], and Dr. Stein has his own problems to deal with. We find out that he used to be Ray Palmer's professor…and they kind of hate each other." For now, producers are mum on the whereabouts of Ronnie Raymond (Robbie Amell), Firestorm's other half.
They had all better learn how to play nice, because Hunter—the original designer of the time sphere used by Eobard Thawne (Tom Cavanagh) in The Flash's season finale—needs them to bring down one of DC Comics' greatest supervillains. "The fall season is very much going to be a buildup to this," says Berlanti, explaining how a Flash-Arrow crossover planned for late this year will tee up Legends' midseason launch.
RELATED: The Legends of Tomorrow Talks Character Development in the New Series
Envisioned as a 13-part anthology ("Each season should feel like its own movie," Guggenheim says), the first self-contained storyline will focus on the kickass collective's crusade against Vandal Savage, an immortal who has taken over the world in the future. The character has a legacy of more than 70 years in the DC Comics universe.
In addition to plenty of time travel and action, fans should expect the signature emotional storytelling of the parent shows. "Legends is going to have a lot of spectacle to it," Guggenheim says. "But the thing we always say is that people may come to a show to see [action], but what keeps them is the character dynamics."
And despite their increased workload, these characters are not abandoning Starling and Central Cities altogether. That said, Berlanti promises "each show will stand on its own," so fans won't need to follow Legends, Arrow, and The Flash at the same time. But those who do will be treated to plenty of surprises.
"What's great about having so many different shows is that we have so much real estate, people can pop up in other places," teases Kreisberg. "You're going to see some surprising faces on all of the shows…and not just the main casts. Secondary characters, some of whom you may have thought you'd never see again."
Tomorrow can't get here fast enough!
[jwplatform Q8jAr5W7]
Premieres midseason, The CW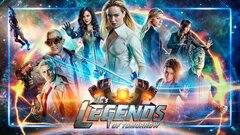 Powered by