'American Ninja Warrior' Producer on the Show's Historic Finale
NOTE: Stop right here if you haven't watched the season finale of American Ninja Warrior.
Mt. Midoriyama has finally been conquered.
NBC's American Ninja Warrior finished up its seventh season on Monday night with its first-ever winner: Isaac Caldiero, 33, who made it up the course's Stage 4 rope climb in 26.14 seconds. Caldiero won $1 million, the first time the show's cash prize has been given.
Caldiero wasn't the only Ninja to complete the course: Geoff Britten, 36, also made it to the summit in 29.65 seconds. Competitors must complete the 75-foot rope climb to the top of the 8-stories-tall "Mt. Midoriyama" in 30 seconds or less.
Caldiero, a professional rock climber from Salt Lake City, and Britten, a professional cameraman from Honolulu, are the first two competitors who have made it through the course after 3,500 athletes have competed since the show's start in 2009.
NBC has already renewed American Ninja Warrior for next season; no word yet on another USA vs. the World special.
We spoke with American Ninja Warrior executive producer Kent Weed about how the show finally landed a winner, why it took so long, and what's next for the competition and its star competitors.
You finally got to crown an American Ninja Warrior, and went from no one finishing Stage 4 to two. What was the difference this year?
Weed: Every year we've seen them get closer and closer. We've seen the Ninjas make it a little bit further. What that did was give them more confidence that it can be done. Last year in the USA vs. Japan episode, Brian Arnold completed Stage 3. He's the first one to ever do it, and I think that opened the door. It told the other Ninjas that you can beat it. And that if you beat Stage 3, you have a shot. Once that door was open, we had people that were committed to doing it.
What was the difference for Isaac Caldiero and Geoff Britten?
Weed: Isaac Caldiero built Stage 3 in his backyard and trained on it. He trained on it every single day, he was committed to it. As long as he made it to Stage 3, he said, "I'm going to make it. I'm going to do it." And he did what no one else had done. He was so committed that he trained harder than anybody else and worked harder than anyone else. Mentally, he pictured himself finishing the course. You hear of athletes doing that. That's where his head was at.
Geoff Britten was somewhat of an anomaly. He's got unusually large forearms, we nicknamed him "Popeye" because of it. And he has the heart of a lion. He overcame a couple of things to make it to Stage 3, some real near misses where he almost faltered. But he hung in there and it was his mental fortitude that allowed him to make it through Stage 3. The last obstacle in Stage 3, which is where so many have faltered in the past, he jumped to the last bar, and there's a moment where you see him lose his grip. You think he's going to fall. And then, it's like time stopped. He catches himself by his fingertips. It's almost inhuman, I've never seen anyone do it, lose their grip and then stop at their fingertips. That was something inside of him that pushed him through levels that we've never seen before.
Making it through Stage 3 is one thing, but these guys still had to tackle the 8-story tall Mt. Midoriyama.
Weed: I think they were so pumped up on adrenaline from their achievement in Stage 3 that they both made it up the rope climb. Imagine how long it would take you to walk on the ground for 75 feet. Probably take you 20 seconds. These guys are going up a rope! And they're scaling it like we walk down the street. It's pretty impressive. Once you break a barrier and people start to believe they can do it, things happen. It's how Olympics records are broken. It showed up here this season. I've said for the past three seasons, we were due for a finisher. I didn't think we'd have two, but I'm very happy.
You also make the course more complicated every year. Did you start to wonder whether you'd ever have a winner?
Weed: We have to keep challenging the Ninjas because they build these obstacles in their backyards. Part of the magic of American Ninja Warrior is being able to react to circumstances in the moment. What's your strategy, and how are you going to beat it? That's what makes American Ninja Warrior so unique. I don't think we ever make it too difficult, but I believe it takes all the stars to align and everything to go your way to end up where these two guys ended up. Anything can go wrong at any moment.
What was it like on the course when the two guys made it?
Weed: The whole episode was fantastic, it just keeps building, and then that amazing finish. Being there in person was incredibly emotional. The Ninja community was there in full force. No one went home. Everyone was there. It was 5 in the morning, and people had been there all night and for days. There were people crying in the stands, and the Ninjas were crying. It was such an emotional release, to finally have someone do it. The dream that all of these people had been chasing for years.
These are people who devote their lives to this TV show. They quit their jobs and spend the year training for that one shot.
Weed: Many people do, it's a passion beyond just the show or getting into shape. It's about making yourself better, being a better person. It's not just for the physical achievements, but it's also about the community, the family, the camaraderie between these athletes.
Some people camp out for weeks for a chance to compete as a walk-on. One guy even bathed in a nearby river while waiting for his shot. Do you need a few more staffers to quicken the process?
Weed: I know, I wish we could run more people through the course. In the first season we did for G4 and shot just in Venice, we shot over a few days and ran a few hundred people through the course. More people got the chance. You want the people like the guy who bathed in the river and the guy who runs for his wife who's in a wheelchair to get his chance. You never know where the next American Ninja Warrior will come from.
The other big change this year was the decision to increase the winning prize from $500,000 to $1 million. Do you think that made a difference?
Weed: I think it's a coincidence. The prize is great, but I think just getting to the top of Mt. Midoriyama is the goal. That's the brass ring, what everyone really wants. The prize is fantastic, without a doubt. Does it inspire people anymore? It could, and I'm sure they thought about it, but I'm also sure it's not the first thought they had.
Isaac Caldiero wins the $1 million, does Geoff Britten get anything for also making it all the way? Is there a second place prize?
Weed: The way that the rules are, there really is only one prize, only one winner. That's the rules from the beginning, and we never anticipated there being a second place person. We never made any contingencies for that. As of now, the second place prize is he gets to share the title of American Ninja Warrior. He's going to receive a lot of accolades I'm sure and do well. But as far as NBC and the show, there's no monetary prize for it. I wish there was, but we can't change the rules.
A number of these contestants have become household names, including Kacy Catanzaro, who last year became the first woman to qualify for the finals. This year was a little rougher for her.
Weed: Any time someone achieves a feat that no one else has ever done, it's pretty spectacular. And Kacy, even though she had an off year, has set the bar for women and showed them that it can be done. We had more women try out this year and a stronger showing for women, and they're emerging more and more. She gets the credit for that. I think she'll be back. When I was talking to Kacy, she told me, "You know when [her boyfriend Brent Steffensen] has a good year, I have a bad year. When I have a good year, Brent has a bad year. We have to both have a good year together."
Now that you have your first two American Ninja Warriors, what's next for the competition?
Weed: The show will only grow in popularity, as people ask if it can be done again. Was it only a fluke? A one-off? We have some surprises coming for next season. I think the Ninjas expect us to challenge them and to be challenged, and they want to meet that challenge. It's what's new, how's the course going to change, what are we going to do differently. Now that we have several popular Ninjas who are household names, who's going to be the comeback kid this year and emerge from the past? We have a lot of talent that could have been in Isaac's and Geoff's shoes.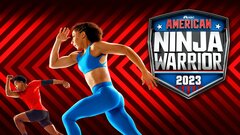 Powered by