'You're the Worst' Season 4: Where Are Gretchen and Jimmy Post-Botched Proposal?
Last season on FXX's You're the Worst, Jimmy (Chris Geere) planned the perfect-for-them proposal for Gretchen (Aya Cash)—including crafting a faux murder scene—but after she agreed to marry him, he bolted, driving to parts unknown.
When Season 4 kicks off, it's three months later, and things are wildly different. Jimmy is still missing, and Gretchen is crashing with her newly responsible best friend Lindsay (Kether Donohue). And while Edgar (Desmin Borges) is still holding out hope that Jimmy may return, he's also redecorating his former roommate's place to his own liking.
Though Gretchen and Jimmy are apart in the season premiere, "It's Been," "We see that they're both taking very different, but very similar approaches to the aftermath," executive producer Stephen Falk says. "They're both hiding. They're both not dealing with it."
The first part of the one-hour premiere focuses on Jimmy's new life, far away from his friends, loved ones, and responsibilities…at a retirement trailer park community. "He is very much escaping," Geere acknowledges. "It was an escape that was unplanned, completely. He's not vindictive enough to have preplanned the proposal/breakup. But something shifted [and] he's run away. His cowardly behavior has taken him to a trailer park…he's basically doing anything he can to not have to claim responsibility for what he did."
Jimmy does find a new friend (Raymond J. Barry) during his adventure—"He was such a formidable actor, character, and human; he was a lovely man," Geere gushes—and the portion centered on the runaway has an indie vibe to its storytelling.
"I was told before [I got the script that it] was just me, and that's when Stephen told me to not shave and grow the silly beard," Geere says with a laugh. "I was excited, because I had the opportunity to show a different side of Jimmy. This is Jimmy pretending to hide from his own problems. It's a very British thing, as well—sweep it under the carpet. The problem is, the mound under the carpet is getting so big this season that someone lifts it up and all of the rubbish comes out."
Things are equally messy for Gretchen in the second part of the premiere. "She hasn't left the house in three months," Cash says. "She hasn't even really come to terms on whether the engagement is over. She's mad and upset and freaked out. He could have died for all she knows. I think she knows that's probably not what happened. But she is all over the place and coping in very destructive ways."
Lindsay is thriving with her new job and apartment, but Gretchen's spiral has shifted their dynamic—on-screen and off. "Kether and I are so used to playing the other role," Cash says. "She is always worried she's boring and not doing enough, and I worry I'm doing way too much and acting like a crazy person. But that's fun. That's the exciting part about being on this show as an actor why we're still over the moon about our jobs: the writers do those kinds of reversals. You get to play a different version of your [character], season-to-season, scene-to-scene sometime. That's really, really exciting."
Admittedly, things look grim for Jimmy and Gretchen right now, but there is hope. "This is the part of the story where boy loses girl," Falk says. "We're really dedicated to following the traditional course of the relationship. It allows us to heighten the specificity of Jimmy and Gretchen's world. They're really going for it, even if the road is circuitous and doubles back and veers off for a while. This is a love story at the end of the day, and even if they're not together, at the end of the day, we're a show with a big gooey center. We're rooting for them as much as other people."
You're the Worst, Season Premiere, Sept. 6, 10/9c, FXX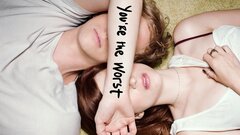 Powered by