'You're the Worst's Stephen Falk and Kether Donohue on Lindsay's Dark Twist
Warning: This post contains spoilers for the You're the Worst Season 3 premiere.
Happily ever after took a toll on You're the Worst's Lindsay (Kether Donohue): she snapped and stabbed Paul (Allan McLeod) while they cooked a pre-planned meal and listened to a bird podcast. "She's very impulsive," Donohue laughs. "Season 3, that's taken to a new level. But, like, dark and twisted."
"I learned this on Weeds: so often, you're talking about story that that would be fun, but until someone goes, 'Why don't we just f—ing go for it, why are we tip-toeing around this?'" You're the Worst executive producer Stephen Falk shares. "'What's the worst thing X character could do? What would still be logical and still be in character…what is the craziest thing that could happen from there?' And then you work backwards from there."
Many of the You're the Worst writers have started doing Blue Apron, the meal service plan that inspired the fictional Red Napkin, and "I think it's really sad," Falk says. "I think it's a precursor to a death of a relationship…They're all talking about these pre-packaged meals they made last night, and I mock it relentlessly. [With Lindsay and Paul,] I had the image of them cooking together—we call it Red Napkin—and listening to a birding podcast, and just how do you get out of that? He says I signed us up for a year, and I have the menu for the next six months. There won't be any surprises ever. All you can do is stab the person."
RELATED: You're the Worst Cast, Creator Share 6 Things to Expect in Season 3
For a series that has often had its characters do highly questionable things (and with a title acknowledging bad behavior), Lindsay stabbing Paul (as "minor" as it may be) is one of the more destructive storylines showcased thus far. "One often worries can I walk a character back from this?" Falk acknowledges.
"I think from the beginning, when we learned she blew four guys at her college reunion, that anything kind of goes with this character. So mildly stabbing her husband didn't strike me as outside of the realm of possibility. She's someone who keeps going back to the same well over and over, so I wanted to make an attempt to show you can't bottle that stuff down; it's going to come out. I couldn't get the rights to Snapped, but I wanted her to be watching that, because she snaps a bit. People snap, and it's often in relationships; they're not often abusive. People are afraid to leave. Lindsay is afraid to admit failure in that way. They always, for me, represent the dark side of staying together for the wrong reasons."
Traditionally, the actors don't know too far ahead of what's coming on the FXX comedy, but Donohue had an unexpected person spoil her on what was to come. "When we were at the FX upfronts, [FX boss] John Landgraf told me what happens in the first episode with Lindsay," she laughs. "So. I had some inside info. He came up to me at the party, and was like, 'I love what happens with Lindsay this season, especially with Episode 1.' And I'm like, 'Stephen can't get mad at me if John Landgraf tells me.'"
For her part, Donohue was delighted by the twist. "When I got the script, the only discussion with Stephen was how excited we were to do it," she shares. "What's cool is in Season 3, we all know these characters, and we all have such a trust with each other. I trust Stephen knows what to write for us, and he trusts we know how to bring it to life."
You're the Worst, Wednesdays, 10/9c, FXX.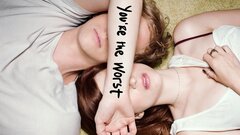 Powered by