What's Worth Watching: 'Documentary Now!' on IFC for Thursday, September 24
Documentary Now!, "Gentle & Soft: The Story of The Blue Jean Committee" (Thursday, Sept. 24, 10/9c, IFC)
There's a surplus of choices on this first Thursday of the official TV season: Thursday Night Football on CBS, the return of the Shondaland crazy train on ABC, NBC's reboot of Heroes, to name the most obvious. But let's take a moment here to appreciate the most obscure alternative—and we do mean alternative—as IFC's inspired series of sly parody, Documentary Now!, concludes its first season with a droll look back at an influential soft-rock band of the 1970s that never actually existed.
Such is the genius of Documentary Now!, the brain child of Saturday Night Live veterans Fred Armisen and Bill Hader (who star in each episode) and Seth Meyers. With loving authenticity, they recreate the style of a classic documentary format—here, the rock doc, in particular 2013's History of the Eagles—so it feels real, except for the fact that it's all a spoof. In "Gentle & Soft: The Story of The Blue Jean Committee," we witness the rise and fall of two Chicago-based musicians (schooled in meatpacking, not melody) who adopt the California sound that was the mellow rage of the mid-1970s, producing one blockbuster album, Catalina Breeze, before it all fell apart.
Hader, as Blue Jean Committee co-founder Clark Honus, recalls being inspired to go West (metaphorically) when he saw seagulls fly by while drunk. Later, he realized they were pigeons. But, "It's a better story with seagulls." That's one of the bigger laughs in a show whose humor relies less on big jokes than on sharp cultural satire and meticulous re-enactments, with grainy footage from fake recording sessions and concerts. Among the celebs providing commentary, playing along as if The Blue Jean Committee were real: Daryl Hall, Kenny Loggins (an awfully good sport, because this fictional duo could be a carbon copy of Loggins & Messina) and rock journalist-turned-director Cameron Crowe, who declares of the Committee's turbulent tenure, "It's almost Shakespearean in the size of the story." The fact that he can say this with a straight face is the sort of thing that makes Documentary Now! such an unexpected delight.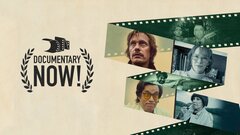 Powered by