How to Endure a 13-Hour 'Bachelor in Paradise' Marathon (And Live to Tell the Tale)
How much Bachelor in Paradise is too much Bachelor in Paradise? To mark Tuesday night's season finale of the addictive, demented offspring of The Bachelor(ette)—and, you know, for science—I decided to find out. Armed only with snacks, a $5 IKEA desk chair and limited regard for my own mental health, I sat down on Monday to ingest the full second season of the show, culminating in the broadcast finale. That's 12.8 hours of pure, unadulterated reality round-robin romance. A self-administered, APA-(un)approved psychological experiment testing the limits of binge-watching, Bachelor consumption, and human endurance.
As in any good science experiment, there are rules. As in no good science experiment, I made these rules up myself and sought no second opinion.
THE RULES:
No commercial breaks.
No multi-tasking.
No non-essential human contact.
What could go wrong?
[Week 1]
Who's Here?
Carly, Ashley S., Ashley I., Lauren (Ashley's sister), Jade, Jillian, Juelia, Tenley
JJ, Jared, Tanner, Jonathan, Mikey, Dan, Kirk
Lowlights:
Chris Harrison introduces the infinity-loop structure of Paradise: an uneven number of men and women, a rose ceremony at the end of each week, the constant cycling in of new contestants.
Juelia, whose name is a crime against spelling itself, has her daughter Ireland flip through photos of potential Paradise stepdads. Ireland, a two-year-old who knows what is up, hates all of them on sight.
Marcus and Lacy, Season 1's big success story, return to be wed by Chris Harrison in front of a handful of reluctant-looking family members, a couple of obvious extras and the full cast of Bachelor in Paradise Season 2.
Ashley I. falls fast and hard for Jared, who has everything she's looking for in a man: a face like Aladdin's and a birthday in November. (Pisces is super compatible with Scorpio.)
How's My Health?
I've got full bars.
Notable Timestamps
7:59 AM: Lauren micro-manages her sister Ashley's ponytail. "Make it a little more Ariana," she orders, squinting critically at it. Ashley complies, adjusting her ponytail to a poppier height. "There." Lauren nods curtly. "Now you'll get Jared."
8:18 AM: First cry! (Lauren)
8:26 AM: First kiss! (Carly and Kirk)
[Week Two]
Who's Here?
Carly, Ashley S., Ashley I., Lauren, Jade, Juelia, Tenley, Clare
JJ, Jared, Tanner, Jonathan, Mikey, Dan, Kirk, Joe, Joshua, Michael
Lowlights
Hyperbole, with your host, JJ: "Giving Josh a date card is like giving the nuclear codes to an insane asylum." "Giving Josh the date card is like putting a grenade in a dude with no arms' mouth."
Dead-weight Lauren hits the dusty trail, back to her glamorous life as a sort-of mistress. "HAVE FUN BEING A MISTRESS!" screams Ashley. "I LOVE BEING A MISTRESS!" Lauren screams back.
Joe, an old favorite of mine from Kaitlyn's season of The Bachelorette, arrives and is so immediately terrible that I wonder if I haven't been seeing the forest for the Kentuckian accent. He strings along widowed single mom Juelia for a rose and a ticket to Week 3. He takes swift revenge on those who dare inform on him. And he farts on a producer.
Clare tells Mikey she is not into him. Dan tells Mikey Clare is not into him. Mikey continues to wonder how into him Clare is.
How's My Health?
Just dandy! I have eaten a row of Double-Stuf Oreos and a quarter-jar of cocktail olives, but that is my right as an American.
Notable Timestamps
9:52 AM: Lauren blows her nose for a full minute and we watch, powerless.
10:07 AM: Joe reads his date card out loud: "Your date leaves first thing mah-nah-nah."
11:19 AM: Michael arrives to join a three-way race for Tenley's heart. "You know, her name is Tenley." He pauses meaningfully, and you know that something really, genuinely atrocious is coming. "But to me she's an elevenly." :-/
[Week Three]
Who's Here?
Carly, Ashley S., Ashley I., Jade, Juelia, Tenley, Clare, Megan, Samantha, Amber
JJ, Jared, Tanner, Dan, Kirk, Joe, Joshua
Lowlights
Clare has a meltdown at the rose ceremony and flees to the courtyard. Chris Harrison begrudgingly follows, but he's having trouble locating a damn to give. "You have been here for a week," he sighs.
New arrival Samantha makes a beeline for Joe, who jilts Juelia without a second thought. Though it's obvious that their coupling was planned in advance of shooting, neither will admit or even discuss it. In a tasteful editing decision, shots of Juelia FaceTiming with her young child are intercut with some cannot-be-unseen images of Joe and Samantha defiling a hot tub.
Carly and Kirk discuss the speed with which their relationship has developed. "It's been like a rocket!" says Carly. "Yeah!" agrees Kirk. "I'm so okay with it though!" says Carly. "Ohhhhhh," says Kirk.
How's My Health?
Everything is great except for this one weird thing which is that my hand is a banana. Just kidding! I'm still fine. I might be, in fact, too fine.
Notable Timestamps
11:54 AM: They added Jorge the bartender to the '90s-sitcom "Almost Paradise" credits sequence, and not a moment too soon.
12:40 PM: Ashley S. has no time for Dan's wishy-washy feelings. "I live by the sun and love by the moon. If you can't love me at the moonlight, then, like, dude, I don't even know you." Word.
12:50 PM: A crab eats another crab and it feels symbolic but maybe that's just crab life.
1:54 PM: "What universe am I living in that I like JJ better than Joe?" marvels Jared, who truly speaks for us all.
[Week Four]
Who's Here?
Carly, Ashley S., Ashley I., Jade, Juelia, Tenley, Samantha, Amber
Jared, Tanner, Dan, Kirk, Joe, Joshua, Mikey, Nick, Chris, Justin
Lowlights
JJ walks away from Paradise to pursue a relationship with a woman he dumped to come on the show. Good luck with that, JJ!
An eliminated Mikey comes back to date an eliminated Juelia, thereby un-eliminating both of them. There are no rules; there is only chaos.
Sensing Samantha drifting further and further from him, Joe throws himself a tiny birthday party and only invites her. She dumps him anyway, leaving him staring forlornly at the "HAPPY BIRTHDAY, JOE!" scrawled in chocolate on his plate. Samantha has left Joe with only one option: moving on blackmail.
How's My Health?
I'm finding myself suddenly but completely invested in the romantic lives of these people, as well as drinking from a cup I have fashioned from the bottom of a pineapple. So, probably not great?
Notable Timestamps
1:58 PM: The credits are beginning to acquire a kind of Too Many Cooks vibe.
2:11 PM: Ashley I. appears to be wearing the Heart of the Ocean.
3:00 PM: Tanner and Jade decide to become officially BF/GF.
[Week Five]
Who's Here?
Carly, Ashley S., Ashley I., Jade, Juelia, Tenley, Samantha, Amber, Chelsie, McKenzie, Jaclyn, Cassandra
Jared, Tanner, Dan, Kirk, Joshua, Mikey, Nick, Justin
Lowlights
Samantha reverses course almost immediately on her decision to dump Joe, then un-reverses it at the rose ceremony, giving her rose to Dan. The woman is either a human evil genius or a par-for-the-course computer.
Tanner has all kinds of Samantha theories: "Samantha is like a juggler. Except instead of juggling balls, it's men." "Samantha is revealing herself to be the chessmaster-slash-spiderwoman from hell." "Samantha is like a preying mantis. After she's done with them, she rips their heads off." Tanner is never out of similes.
Five-time Bachelor franchise alum Chris Bukowski stumbles by to ask Tenley on a date, but she politely declines his lurching advances.
How's My Health?
The delivery guy who just dropped off my pad thai was my first point of human contact today. I held eye contact for about two beats too long.
Notable Timestamps
4:45 PM: Ashley I. gives Jared a letter of her feelings. He sits down to read it. "Oh god. It's front and back."
4:53 PM: "Watching Joe and Sam together is like pouring generic brand ketchup on filet mignon," explains a plotting Dan. "It just doesn't work. And it's offensive to everybody."
5:14 PM: On his way out, Joe shows us the text messages that prove Samantha's complicity in his nefariousness.
5:32 PM: Ashley S. is finding it increasingly difficult to keep her crazy under wraps. "I was like, 'But I don't want red lipstick,'" Carly recounts. "And she was like, 'You are not treating me the way Jesus would treat me.'"
[Week Six]
Who's Here?
Carly, Jade, Tenley, Samantha, Cassandra
Tanner, Kirk, Joshua, Nick, Justin
Lowlights
Ashley I. and Jared return from their date bearing slightly different takes. Ashley gushes over how much she loved to watch Jared sleep! Jared speaks fondly of the room's air conditioning. They break up while Ashley is wearing an "I'm the Kim" tank top.
Seemingly devoted Kirk blindsides Carly with a breakup, then proceeds to chase her all over the resort in order to force-feed her closure. "You deserve a conversation!" he yells, desperately. "YEAH WELL YOU DON'T," she screams back, ducking under his arm and making a break for it.
Chris Harrison reminds the last four couples that their roses mean FOREVER, even though that's a totally unenforceable rule.
How's My Health?
Alive.
Notable Timestamps
9:35 PM: Surprisingly, newbies Cassandra and Justin accept each other's roses.
9:36 PM: Unimaginably, so do Samantha and Nick. "You have so many qualities," Nick tells Samantha. I prithee, Nick: name me some of Samantha's "qualities."
9:44 PM: Tenley and Joshua break up because Idaho is not at all next to California.
9:54 PM: Tanner proposes to Jade; Jade accepts. My eyes are welling up BUT I'M SURE ONLY BECAUSE OF THE DELIRIUM, OKAY?
Experiment Results
From my statistically robust sample size of one (1), I can conclude that there is no such thing as too much Bachelor in Paradise. The only limit to human binge-watching achievement is the limit we set within our own hearts.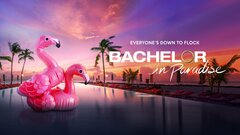 Powered by