'Person of Interest' Cast on Another Rise of the Machine in Season 5 (VIDEO)
https://player.waywire.com/?id=55W3XX2JR417QZZM
Person of Interest comes back this fall for a shorter season (13 episodes), which may or may not also be its series finale. But thankfully, Shaw (Sarah Shahi, who's currently on maternity leave) will most likely return!
The rest of the cast—Jim Caviezel, Michael Emerson, Amy Acker and Kevin Chapman—dropped by the TV Guide Magazine/TV Insider yacht at Comic-Con to share whether there will be another Rise of the Machine, and if Fusco will ever find out what's really going on.
"I'll be keen to see if we arrive at a place where we invest the machine with a kind of personhood," Emerson said. And speaking about his character, Chapman said, "[Fusco] kind of lives in the dark. So it would be nice to get brought into that world."
On a lighter note, the cast wouldn't mind some show crossovers with HBO's Penny Dreadful (per Amy Acker) and another CBS show, The Big Bang Theory. "I think we should be on the run and hide out at the apartment on Big Bang Theory," half-joked Emerson.
Watch the video above to hear the cast members talk more about how the show should evolve and what makes the Comic-Con experience special.
RELATED: More Comic-Con Features | Video chats with the casts of Mr. Robot, Under the Dome, Colony and more.
Questions? Ask Critic Matt Roush!
TV critic (and occasional TV therapist) Matt Roush answers viewer questions and concerns in his Ask Matt column each week. Wondering about plots, characters and twists on Person of Interest? Submit your query to Matt via the form below: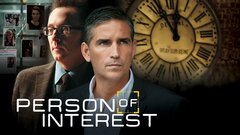 Powered by