'Person of Interest' Trimmed to 13 Episodes, But Shaw's Not Gone
For Person of Interest fans at the CBS series' Comic-Con panel, there was good news and bad news—and unrelated-but-exciting news.
The sad news discussed at the Comic-Con panel for the fifth season of CBS' Person of Interest was the fact that the series is being reduced to 13 episodes, which could also be its death knell. Ratings will determine its future, but in the meantime creator/executive producer Jonah Nolan and executive producer Greg Plageman are holding onto positive thoughts.
"We are going to make 13 kick-ass episodes and if we are going to be picked up, we will have more stories to tell," Nolan said. "If it is the last season, no one is going to be disappointed in it."
The happy news, according to supervising producer Denise Thé is that "we haven't seen the last of Shaw [Sarah Shahi]." And Nolan told TV Insider, "We love Sarah. We love her character. I hope to see her back on the show."
Shahi gave birth to twins earlier this year, so her character had to be written out; it would have been tough for the actress to be pregnant and have the character still function like a mercenary.
The one special treat given to fans was a glimpse at Nolan's upcoming HBO series Westworld, which he says will "continue the conversation about artificial intelligence."
A special four-season recap video showed the team—Harold Finch (Michael Emerson), John Reese (Jim Caviezel), Root (Amy Acker), Lionel Fusco (Kevin Chapman), along with Sameen Shaw (Shahi) and Joss Carter (Taraji P. Henson)—fighting for their lives. At the very end, there is a glimpse into the future, hinting at dark times to come as Team Machine battles Samaritan.
In addition to Season 5, which arrives midseason, POI debuts this fall in syndication on WGN America and on Netflix. A fundamental question coming up for Season 5 will be how Finch deals with the death of the Machine. At the very end of last season, he finally realized the humanity of it, so the loss he feels is great. Now, he is going to have to figure out a way to reconstitute the Machine. Whether it is the identical configuration, or a reboot with new features remains to be seen.
I thought it was cool that Finch, who has resisted personifying the machine, had it creep up on him," Emerson said. "It was really moving. In the end, he behaved like it was his child talking to him. I am sure he knows how insane that is, but it was rich and telling and it has a promise for the future. He may not rebuild the Machine the way he did originally. He may give it more of the freedom that Root was always demanding for it. Maybe a new Machine is a greater warrior than the old Machine was."
Other highlights from the panel include:
Carter's Death Continues to Effect John: The conversation that Reese had with the late Carter as he was sitting in his car bleeding out in the "Terra Incognita" episode last season continues to have ramifications: "Here is a gal that he would have really loved, but heart and head didn't hook up until it was too late," Caviezel said. "You assume in your life that you said to your family members that you loved them, but you never did. When I remember watching it, it had me in tears. I really miss Carter. I think that healing can help Reese go forward with other people in his life."
Lionel Fusco is Tired of Being in the Dark About the Machine and Samaritan: Fusco is the last member of Team Machine to know what's really going on. He just knows that Finch recruited him to be one of the good guys, and he has come to realize that he likes seeing himself as more of the hero he always wanted to be. "Fusco has been getting his butt kicked since Season 1," Chapman says. "I think he is really going to start asking a lot of questions this season. He will start an investigation of his own. He knows something is out there."
Girl-On-Girl Kiss: Her kiss with Root was one of the last moments we had with Shaw, and it explains why Root was so driven in her search. "When Shaw kissed me and then was shot, I don't think I realized it was such a turning point for my character," Acker said. "Even though it was so sad she was 'maybe' dead, I didn't realize what doors it was going to open. The feelings I had for her came out afterward. It was a really great thing to get to play."
Caviezel Is Not Doing Clint Eastwood: The development of the voice that Caviezel uses as Reese is to keep it sotto voce enough so that his conversations can't be overheard by either the Machine or Samaritan. "We are talking about a machine no one is supposed to talk about," he said. "The voice is down there for that reason."
Person of Interest Musical Selections Are an Excuse for Nolan and Plagerman to Not Write: "Greg and I discovered quickly we have similar musical taste," Nolan said. "Picking songs is more fun than writing. We listen to a lot of music. It is an additional creative component. As great writers as we think ourselves, music can connect in a way that bypasses all the head nonsense."
Finch Would Like to See the Return of Grace: Finch faked his death and sacrificed his love life when he realized that it would put fiancée Grace Hendricks (Carrie Preston) in jeopardy. If Samaritan is ever destroyed, he could possibly find happiness again. "I hope so, because I find that actor so attractive," said Emerson, who is married to Preston in real life. "I open my eyes in the morning and think, 'If I could just roll over,' and … it is her!"
Bear Will Never Be Harmed: "Denise tells us that Bear may be the only one who survives the show," Plageman joked.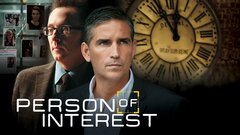 Powered by