See the 'Mr. Robot' Cast Goof Off Behind the Scenes
New York city is a playground for the wealthy, which makes it the perfect place for Mr. Robot (Christian Slater), the mysterious leader of a Brooklyn-based collective trying to bring down America's biggest corporations through cyber-attacks. Part of his pack: vigilante computer genius Elliot (Rami Malek), who handles cybersecurity for one of those companies. Mr. Robot, Slater says, "creates a conversation about the way people use technology and deal with societal issues." But it's hardly all anarchic doom and gloom on the set of the series, which has already been picked up for Season 2. The cast passed around a camera to show us the lighter side of hacktivism.
Don't let the smile lull you into a false sense of security: Malek is quite the prankster on set. "Once," confesses the actor, "I put Vaseline all over Portia Doubleday's phone in her dressing room."
"We have a lot of fun," says Slater, goofing off with Malek outside Silvercup Studios in Long Island City, Queens. Slater, a native New Yorker, loves filming around his old stomping grounds. His favorite spot so far? The iconic Cyclone roller coaster in Coney Island. "I wake up and take the subway to work—it doesn't get better than that," he says.
Carly Chaikin, who plays acerbic hacker Darlene, and Michael Drayer, who plays partner in cybercrime Cisco, went hunting for something to keep them awake during a late-night shoot. "We asked for some gummy bears and got a whole smorgasbord of candy," she says with a laugh. Luckily, there were also some carrots on hand.
The set of Mr. Robot's lair includes a few real Skee-Ball machines, much to the delight of Doubleday, who stars as Elliot's high-strung cybersecurity colleague Angela. "It's my makeshift bed," she jokes. The cast will occasionally play between takes, and Chaikin is the resident expert. "I'm pretty good," Chaikin boasts. "I'd go to Dave & Buster's as a kid."
Mr. Robot, Wednesdays, 10/9c, USA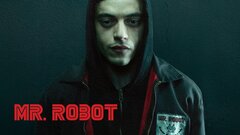 Powered by