'Mr. Robot' Finale Postponed Due to Scene Similar to Live TV Killings in Virginia
The season finale of Mr. Robot will not air tonight, USA Network announced this afternoon.
According to the network's statement:
"The previously filmed season finale of Mr. Robot contains a graphic scene similar in nature to today's tragic events in Virginia. Out of respect to the victims, their families and colleagues, and our viewers, we are postponing tonight's episode. Our thoughts go out to all those affected during this difficult time."
Earlier this morning, news reporter Alison Parker, 24, and cameraman Adam Ward, 27, were shot on live TV while airing a morning news segment for Roanoke, Virginia station WDBJ. The suspected shooter, a former colleague, later shot himself and was pronounced dead this afternoon.
Last week's episode will air in place of the finale episode tonight, and the season ender will air in its entirety on Wednesday, September 2 at 10/9c.
Networks have a history of pulling episodes in the wake of shootings and other violent episodes in the news. After the 1999 Columbine shootings, the WB delayed episodes of Buffy the Vampire Slayer that included plots involving violence at the series' high school. In the wake of the 2012 Newtown elementary school shootings, Fox pulled episodes of Family Guy and American Dad, while Syfy yanked an episode of Haven that included school violence. And after 2013's Boston Marathon bombing, episodes of Castle, Hannibal, and Revolution didn't air as scheduled because they contained jokes and references to explosions or terrorism.
Fans who were awaiting the episode after the major reveals last week took to Twitter. Some praised the decision:
@whoismrrobot Thank you for your thoughtfulness towards these families in Virginia. I'll be tuning in next Wednesday #MrRobot

— Lindsay Olford (@LindsOlford) August 26, 2015
@whoismrrobot much respect, most networks wouldn't have done that. As bummed as I am to have to wait its the right thing to do.

— FeFe King (@FeFeKing) August 26, 2015
@USA_Network quality move not showing #MrRobot tonight. Props for doing the right thing

— Brian Knott (@simplecharlatan) August 26, 2015
Others were frustrated or angry about the network's decision:
@whoismrrobot Wtf so what. The events are totally unrelated. You just lost a numerous amount of viewers cuz of that

— Zero (@Zero_1stContact) August 26, 2015
@whoismrrobot While I understand respecting the victims families but postponing the episode in my opinion is caving to the evil doers.

— Jason Patterson (@whitewolf359) August 26, 2015
@whoismrrobot Why can't this warning be enough? Ridiculous. Pandering to the offended and the #coward. Shame on you @USA_Network #mrrobot

— Colin Patrick (@colinpatrick13) August 26, 2015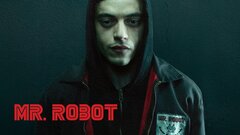 Powered by