USA Renews 'Mr. Robot' for Season 2 Ahead of Series Premiere
USA's Mr. Robot won't premiere until tonight at 10/9c, but already it has renewed the Christian Slater-starring techie thriller for a second season of at least 10 episodes.
Usually a pre-series premiere renewal is reserved for shows on premium cable networks or online platforms (for whom live ratings aren't really relevant), á la Starz with Black Sails, or Netflix with Orange Is the New Black. But USA is going new school with Robot, the network's big bid to reinvent itself and draw in those viewers who aren't so much into watching TV in a linear fashion. The pilot has already drawn 2.6 million viewers on various digital platforms thanks to an early online release four weeks ago.
The network is also experimenting with early VOD episode premieres for comedy Playing House—viewers will be able to watch episodes on demand a week ahead of their premiere on the linear channel. The times, they are a-changin'.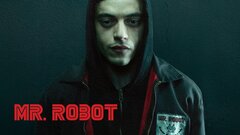 Powered by