Galen Gering Investigates the 'Days of Our Lives' Serial Murders
What better way to tidy up a soap before its 50th anniversary than to bring in a serial slayer? A wild bloodbath on NBC's Days of Our Lives kicked off Thursday with the death of annoying journo Serena Mason and the murders will keep Salem cop Rafe Hernandez—played by Galen Gering—plenty busy this fall. Whodunit? Gering read us our Miranda rights, then gave us some scoop.
Word is, these serial killings are dazzling entertainment, but so many actors have been let go. Safe to say that's bittersweet?
I hope Rafe's getting overtime, because there are a lot of murders coming, plus some failed attempts. And just when you think you know what's happening, there are some really fantastic twists. Holy mackerel, Rafe is on the case, baby! But it's hard to be too enthusiastic and gush when so many of my castmates are now out of work. It's brutal. But that's why they call this show business, not show fun.
Who looks most suspicious?
Rafe will immediately zero in on Chad (Billy Flynn). He finds out Chad and Serena had some sort of dalliance in the bar, and that Chad wound up with a cut lip. She took off and he went running after her. The next thing you know, she's dead. A bloody napkin with [Chad's] DNA is found near Serena's body. Do the math. But, then, they had no history together. Why would Chad be so upset that he'd kill her?
RELATED: Kristian Alfonso on Giving Hope a Happy Ending
What about the next victim?
The second murder [airing September 8] can also be traced to Chad. A preposterous amount of evidence is pointing at the guy. [Laughs] So, clearly, he is not the killer! Rafe won't be looking exclusively at Chad but there's big pressure from Justin (Wally Kurth), the new D.A., to put Chad behind bars. Justin is a Kiriakis and Chad's a DiMera, so we play up that old family feud. When another murder happens and Chad is not in custody, well, the s—t really hits the fan. Justin is on Rafe's ass. "It's all your fault!" Of course, the pressure will only get worse when there's a new murder every couple of weeks.
When the perp finally does get revealed, will we be surprised, satisfied, disappointed?
I will tell you this: The actor or actress who plays the killer does an absolutely awesome job in the reveal. Everyone on the set was electrified. We couldn't stop talking about the performance. So, yeah, this entire whodunit is pretty great. Well, not for the poor people of Salem. They're totally freaking out. The whole town is on lockdown with all these deaths. But it's a damn good story, man.
And it sure beats that time Rafe was flat on his back in the hospital for months when he nearly got his weenie whacked off. Don't you hold some sort of soap-opera record for remaining horizontal?
John Aniston (Victor) is the winner, I think. He told me that [head writer] Jim Reilly once put Victor in a coma for over a year. So maybe I'm just second place. What an honor. [Laughs] The bridesmaid! I'm so glad I can recognize my character again—the character I really loved when I first came to Days. Rafe sort of got lost along the way, but now I'm really optimistic. We all are. The mood on the set these days is so exciting it's palpable. Stephen Nichols (Patch) is awesome! Thaao Penghlis (Andre) is a freakin' classic! There are so many great people returning. I saw a certain actor in the hall one day and said, "Oh, my God, you're here, too?" Someone big. Everyone's digging in and doing their absolute best. I'm not just saying that because we're celebrating our 50th. The vibe is truly contagious. It really helps that we recently won the Emmy for best show, although it was a tie. And they're finally putting our repeats on Pop TV. So we're doing pretty well these days. [Laughs] It no longer feels like Days is the red-headed stepchild of the soap world!
More Days of Our Lives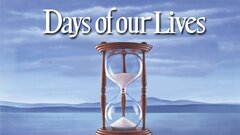 Powered by