Patch Is Back! Stephen Nichols Previews His Return to 'Days of Our Lives'
After a six-year absence, soap superstar Stephen Nichols will return to NBC's Days of Our Lives on August 28 as one-eyed rebel Steve "Patch" Johnson—phenomenal news for the fans, not so much for the folks in Salem. Nichols gave us a sneak peek.
Patch divorced his soulmate, Kayla (Mary Beth Evans), off-camera and has been gallivanting for years, ignoring his parental responsibilities. What kind of reception does he get when he finally comes home?
He's not welcomed at all—by anyone, least of all by Kayla. He tells her right off the bat that he wants her back, and that he wants his family back. But she's not having it. How can this man just take off for years and be out of contact like that? For all of Kayla's sweetness and light, she's not going to put up with any more s–t from Patch!
Their 1988 wedding was the second highest rated "I do" in soap history—behind only Luke and Laura's. Can that old magic be rekindled?
Mary Beth always says, "The audience loves Patch because he's in love with a chubby woman. That's the magic!" She is so self-deprecating. Mary Beth is who she is and does not care, and I just love her for that. Magic is a tricky thing, but Patch and Kayla must eventually get back together, right? In soap operas, that's the law. In my first scene back, when Patch walks off that elevator, and he and Kayla look into each other's eyes, the connection is still there. That's not going to go away, no matter what. She's not prepared to take him back but he's not leaving.
There's been an epidemic of wandering husbands in Salem—Patch, Bo, Jack and John all went away for long stretches on mysterious missions.
We address that. Patch goes and has a little talk with Hope and sees how pissed she is that Bo has abandoned his family. But Patch does not buy that for a minute. He and Bo were best friends since they were 16. He knows Bo would never just up and leave his loved ones without a serious reason, but he's the only one who believes that. So Patch is determined to find him. He's not wild about this Aiden [Daniel Cosgrove] character being with his best friend's wife, either. Patch's intuition tells him there is something off about that guy. But, again, he's the only one who seems to see that. Hope and Kayla don't trust Patch—or his intuition—because he disappeared just like Bo did. [Laughs] They are not happy with their men!
But Steve returns to town with his runaway son, Joey (James Lastovic), who has now been SORAS'd into a teenager. Certainly that should score him some points with Kayla.
I love that they grew up this kid suddenly. Mary Beth said, "The last time I had a scene with Joey, he was 6 and Kayla was putting him to bed. Now he wakes up and he's 16!" And James is a really fine young actor. So are all the other kids on the show who have grown up overnight. It was a smart move and the casting is excellent. Joey needs his parents, so that's certainly something that bonds Patch and Kayla. No matter what happens in their story, no matter what s—tstorm hits, there's still a lot of love between them. The audience will see it, I'm sure.
How's Joey feel about Dad?
He's very resentful. He doesn't want to address his father's absence. He's just kind of silent and stoic about the whole thing. It's hard to get two words out of the kid. For Patch, that's especially painful because his own father was an abusive drunk. Patch isn't that kind of father but he's made life difficult for his son in a different way. It's good stuff and based on what would happen in real life. It's not cartoonish. Suddenly, Steve's going, "Oh, s—t, my kid's a lot like me!" He's sure getting a taste of his own medicine.
Why is Patch still wearing a patch? Surely, there's something medical science can do for the guy.
[Laughs] I love the patch! We did take it off in the past and it just didn't work. And everybody agreed that it didn't work. It's the same with his name. A lot of people prefer to call him Steve but, to me, he will always be Patch.
You made him one of the all-time great bad boys. Is it hard to keep that going as you age? Don't you run the risk of looking a bit goofy?
It's definitely a struggle—emotionally and physically. Patch can't remain the juvenile delinquent he was back then. He's wiser and mellower now, and the writers have come up with a damn good excuse for why he's been gone all this time. But you still need to be in shape and take off your shirt. You can't go, "Just shoot me from my neck up." At some point, I may just go the Tony Geary route. [Laughs] When I was on General Hospital, I was, like, "Hey, why does Geary always get to wear a T-shirt in his bedroom scenes?" Physically, you just try not to be embarrassed. It's tough. At some point, you just have to admit, "Those days are gone." Of course, it doesn't help that Days will be showing all those vintage Patch-and-Kayla flashbacks. [Laughs] We look ancient now! Emotionally, though, I think our characters are still very much the same. Who they are is in their DNA. The producers told us, "We want the audience to fall in love with the Patch and Kayla of today, not the Patch and Kayla of the past." I said, "Well, I understand what you're saying, but they are who they are, and you can't really change that."
Speaking of GH, was there ever any serious talk of bringing you back as Stefan Cassadine? ABC Daytime had a fan contest—which seemed pretty bogus—that promised the viewers you'd make a return appearance if you got the most votes.
If they were ever truly serious about bringing me back for a longterm story, then they would have made a serious offer. And there was none of that. They brought back all those great actors for the 50th anniversary Nurses Ball and they did call me for that. I said, "Are you kidding me?" No, not for me. I felt slapped by that experience and I can't believe that most of those actors went ahead with that plan. They are so talented and worth so much more than that.
How was your experience as Tucker McCall on The Young and the Restless? Jeanne Cooper adored you, man!
It was such a shock to lose her. For me, she was the light in that place from the very beginning. In fact, on my very first day she said something to me about how Tucker was acting like a little boy, and something clicked. We looked into each other's eyes and, dang, I knew I was home and that my experience at Y&R was going to be just wonderful. I loved working with Jeanne and feel so blessed that I had the opportunity. There is a level of writing and acting on that show that is more consistent than at any other show I've been on, and I really appreciated that. I felt, like, man, I gotta up my game in this place! Especially when you're working with Jeanne Cooper and Eric Braeden. I got really serious about my work. Not that I'm not always serious. [Laughs ] I'm probably way too serious. It was a great experience.
Even though you were written out?
Things happen. It's politics, man. New executives come in and they want their favorite actors on the canvas and some people gotta go. Hey, they traded off the actress who played my wife, Eileen Davidson, like a baseball player! She called me one day and said, "They just fired my ass! But, the good news is, I'm going to Days." And that was that.
Did you have any concerns about returning to Days?
Well, I really didn't know what to expect—especially with all the writer and producer changes—but it is really, really great in the studio right now. The atmosphere is so different. The show is being run by a group of people with real vision. [Executive producer] Ken Corday is very proud of what's happening and he's walking around the hallways so happy. He has such great love for the show and its history, and recognizes the importance of getting everything back on track for the 50th anniversary. And I am so proud to be part of that history. Everyone is so happy now, and I have been on other shows where that was not the case and you just dread going to work. Look, it will never be like it was in the '80s. That was the golden age of soaps, even though we didn't know it at the time. There was more money, the sets were more lavish, the production values were higher, and there was a really strong, rabid audience for our show, for all the shows. The viewers remember that time so fondly. We actors do, too. I don't think we knew what we had back then, but I think we can get some of that back. I really do. It was an extremely magical time in my life, personally and artistically. I always tell that to Ken. Days of our Lives means so much to me. It was one of the first jobs I landed and, right from the get-go, a truly creative experience. That has never changed!
More Days of Our Lives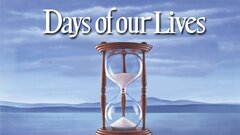 Powered by