50 Years of 'Days of Our Lives': Melissa Reeves Remembers Her All-Time Favorite Scenes
If you don't love Jennifer Rose Horton on NBC's Days of Our Lives, then you don't have a pulse. Played since 1985 by the luminous Melissa Reeves, the character has gone from unruly teen to starchy mom—with 50 shades of fantastic in between. As the golden anniversary of Days draws near, we rang up Reeves to get her reminiscing about her all-time best moments in Salem, U.S.A. Grab a hanky and check out these clips!
The Horton Family Christmas (1986)
"My favorite Days scenes of all time are those old Christmas get-togethers when Macdonald Carey [Tom] and Frances Reid [Alice] were still with us," says Reeves. "Those two were such inspirations to me and I miss them so much. I was a teenager from the east coast who had moved to Los Angeles for acting work and really missed my family. Mac and Frances took me under their wings. They taught me so much about the business. Mac would give me the most incredible books that really furthered my education, and Frances taught me so many great life lessons. I felt like I had a grandpa and grandma on the set looking after me. I know our audience felt the same way. Every Christmas on Days, we still gather at the Horton house and hang those family ornaments. We still have that same set and Mac's same chair. Every time they put me in that chair to play a scene, I cry a little. So many wonderful memories!"
[jwplatform 9BMrVv65]
Jennifer and Frankie in the Fishing Shack (1987)
"Billy Warlock! I will never forget all those beautiful scenes between Frankie and Jennifer in the fishing shack, and that time they danced to 'Stand By Me.' Those moments were all about the sweet innocence of being a teenager in love. Frankie and Jennifer cared so much for each other, and not just in a physical, sexual way. They had a deep friendship, which made it an even sweeter love story. Jennifer's romance with Frankie is what shaped her and changed her from that wild teenager she used to be. He came along and refined her. He brought depth to her. My husband, Scott [Reeves], and I always tell our kids that if they are blessed enough to be best friends with the person they've fallen in love with, well, there is nothing more awesome!"
[jwplatform j6YJp6VI]
Jack and Jennifer Make Love for the First Time (1990)
"One day, Matt Ashford showed up at Days and shook up my world just like Jack did Jennifer's. He was so different and funny as Jack, so human. He wasn't afraid to play that flawed, broken man. He didn't need to be the macho man, the leading man, he was just this fun, nerdy guy but also a really handsome guy and the fans loved him and related to him. They could tell that Jack truly loved Jennifer, in his weird way. When I first started working with Matt I was, like, "Wow. What is this? Well, this is sure going to be different!" It was like being on a roller coaster only I wasn't hanging on for dear life. I was throwing my arms in the air!"
[jwplatform 6EIlIy0D]
TV Insider has more favorite 50th anniversary Days clips handpicked by Deidre Hall, Kristian Alfonso, Bryan Dattilo and executive producer Ken Corday. Stay tuned. Lots more to come!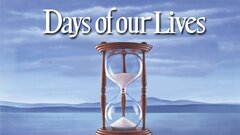 Powered by