First Look: Megan Hilty Smashes Her Way to 'Girlfriends' Guide to Divorce' (PHOTO)
Jo (Alanna Ubach, far right) is in for a big smash.
Megan Hilty joins the Bravo comedy Girlfriends' Guide to Divorce, returning later this year, playing Southern belle Charlene, the second wife of Jo's bigamist husband, Robert Frumpkis (Maury Sterling). "Now that Jo is divorcing Frumpkis, Charlene arrives in Los Angeles to become wife No. 1 and surrogate mother to Jo's daughter," says executive producer Marti Noxon. "None of this goes over well with Jo."
Hilty was already a fan of the show, which she describes as "like a new Sex and the City set in L.A." But though she was excited to work with Ubach, it was a certain plot point that got her really riled up.
"I've been on a pretty strict diet while getting ready for another project I'm working on, and it was written in the script that I had to eat a cake-pop," says Hilty. "For someone who hasn't had sugar in eight weeks, that was pretty exciting!
Girlfriends' Guide to Divorce, Series premiere, Fall 2015
Questions? Ask Critic Matt Roush!
TV critic (and occasional TV therapist) Matt Roush answers viewer questions and concerns in his Ask Matt column each week. Wondering about plots, characters and twists on Girlfriends' Guide to Divorce and your other favorite shows? Submit your query to Matt via the form below: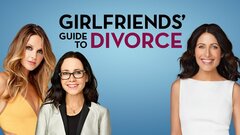 Powered by