John Corbett Shows Off His 'Sex&Drugs&Rock&Roll' Guitar Skills
When it comes to memorable parts, John Corbett has landed more than his share over the years—from philosophical radio jockey Chris Stevens on Northern Exposure to good-natured groom Ian Miller in My Big Fat Greek Wedding, which he'll be reprising for the film's 2016 sequel. (His Sex and the City alter ego, Aidan, might have lost Carrie, but he won the hearts of pretty much everyone else.) Still, Corbett says that his current role on Sex&Drugs&Rock&Roll, FX's comedy about a group of aging musicians getting the band back together, is the only one he was truly born to play. As mellow lead guitarist Flash, he provides a reserved counterpoint to the group's volatile, hard-partying frontman, Johnny Rock (Denis Leary), but even his supersize sunglasses can't conceal the simmering fury of their decades-long rivalry. Here, Corbett, who has released two country albums of his own, sings the praises of his new gig.
RELATED: Sex&Drugs&Rock&Roll Shoots for the Funny Side of Fame
What makes Flash such a good fit?
I've had a real band for 10 years, and I was out on the road with them when my manager called. He said, "Denis Leary wants you to play a lead guitarist named Flash on a show called Sex&Drugs&Rock&Roll," and I said, "I'm in. I don't even need to read the script." In 30 years of acting, this is the role that was made for me. The mix of comedy, drama and playing the guitar is a perfect storm.
Flash is in denial about growing older. Can you relate?
I'm 54 now, and I see these young bucks and I think, "Man, I could knock you straight the f— out." One guy in his twenties tapped my belly and made some comment—I always have a little belly, no matter what—so I challenged him to a 100-yard dash. And I smoked him!
Have your music-industry pals given their seal of approval on the show?
No! Since the premiere, I haven't had any input. My phone is working—I've checked. Only one friend sent me a text. It was Nia Vardalos, and she's been in Greece!
Sex&Drugs&Rock&Roll, Thursdays, 10/9c, FX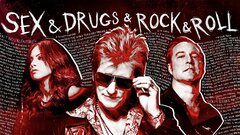 Powered by