'Sex&Drugs&Rock&Roll' Shoots for the Funny Side of Fame
For his new comedy, Sex&Drugs&Rock&Roll, Denis Leary does, well, nearly everything. He writes, directs, produces and stars as Johnny Rock, the inelegantly aging lead singer of a fictional motley crew of '90s washouts called the Heathens. Leary also penned and performed most of the show's songs. "The really funny, pretentious stuff is easier for me to write, but the songs have to be good and they have to sound like real songs," he says.
Leary is no stranger to rock 'n' roll. He started out in musical theater at Emerson College in Boston, where he met future members of groups like the Del Fuegos, Raging Slab and Ozzy Osbourne's band, some of whom he hired to back him on his occasional forays into music throughout the years, including a 1993 MTV Unplugged appearance; his 1993 cult hit, "A**hole"; and some songs on Sex&Drugs.
During the early '90s, Leary befriended then-Nirvana drummer Dave Grohl and members of the Afghan Whigs, which gave him the behind-the-scenes insights he channeled into the series. Grohl and Whigs frontman Greg Dulli both guest star in early episodes, and Dulli and other members of the Whigs play on the series' theme song.
"I'd used Dulli in an Irish crime movie I did called Monument Ave., and he was terrific," Leary says. "I hadn't acted with Grohl before, but I knew how loose he was and also very capable of improvising."
The premiere, shot in faux-documentary style, tracks the Heathens' messy reunion, spurred by the sudden appearance of Johnny's daughter, Gigi (Victorious's Liz Gillies), an ambitious young singer trying simultaneously to kick-start her own career and connect with the father she never knew. Between the band members' drug and alcohol problems, their desperate attempts to recapture their former glory and the struggle to mend their fraying relationships, Sex&Drugs could easily have been a pointed emotional drama. But, says Leary, "how seriously bands take themselves, and that chase for ego and fame, has always been hysterical to me. I want you to laugh your ass off."
Sex&Drugs&Rock&Roll Series premiere, 10/9c, FX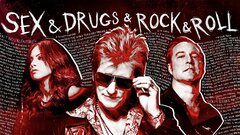 Powered by