'Sex&Drugs&Rock&Roll's John Corbett on Flash and Johnny: 'They Don't Want to See Us Getting Along!'
"Flash, I think, is always lookin' out for No. 1," says John Corbett of his character on Sex&Drugs&Rock&Roll. As the show heads toward the conclusion of Season 2, Flash is carrying on with both Gigi (Elizabeth Gillies), the 22-year-old daughter of his band's former lead singer Johnny Rock (Denis Leary), and Johnny's longtime girlfriend, Ava (Elaine Hendrix).
RELATED: Sex&Drugs&Rock&Roll's Denis Leary Isn't Worried About a Sophomore Slump
While only star-cocreator Leary knows the ultimate fate of Flash and the rest of the squabbling, incestuous band at the center of the show, Corbett is quick to point out that S&D&R&R is a comedy that depends on the friction between the two men for laughs. "I think he's got to be the Keith Richards to Johnny's Mick Jagger," Corbett says. "The audience likes that and we can't lose it. They don't want to see us get along!"
Corbett may be a little bit country—he's released two albums and tours with his own band—but Flash is pretty much all rock 'n' roll. So how does Corbett's onstage swagger compare to his character's? "I don't feel like I have an onstage Corbett swagger. Most of the time I'm just thinking about the next chord changes and the next verse!" he says. "I think I spend much more time posing as Flash."
RELATED: John Corbett Shows Off His Sex&Drugs&Rock&Roll Guitar Skills
He's largely built his character around rock stars like the Rolling Stones' Richards and Aerosmith's Joe Perry—guitar heroes who have legendarily tense relationships with their hard-struttin' lead singers. "I like to see how close they get physically onstage when they don't really like each other," Corbett says. "A lot of times, it's like they're invisible to each other." But Corbett makes no apologies for his character's often juvenile behavior: "I don't want Flash to grow up!"
Sex&Drugs&Rock&Roll, SeasonFinale, Thursday, September 1, 10/9c, FX.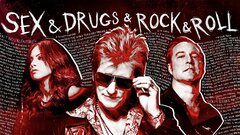 Powered by