High Times: Kathy Bates Talks About Going Green in Netflix's 'Disjointed'
On the heels of Jane Fonda and Lily Tomlin landing Emmy nominations for Grace and Frankie comes another Netflix comedy starring a woman of a certain age. Oscar and two-time Emmy winner Kathy Bates headlines Disjointed, the first post-pot-legalization comedy, from producer Chuck Lorre (The Big Bang Theory, Mom) and former Daily Show head writer David Javerbaum. Bates thought her career was over in 2012 after her legal drama Harry's Law was canceled and she suffered her second bout of cancer. A year later, however, she launched an award-winning turn in Ryan Murphy's American Horror Story anthology, and now she hopes to enjoy a long run as Ruth Whitefeather Feldman, passionate proprietor of a marijuana dispensary. "An old broad like me, still kicking," Bates says. "I'm loving it!"
TV has recently been a bonanza for actresses who are over 40.
Ah, hello?
You agree?
Ryan Murphy, Ryan Murphy, Ryan Murphy! It's been great because we're fine wine. To have this happen with Ryan [on American Horror Story] and now with Disjointed, I just weep with gratitude.
Your character's pot shop is called Ruth's Alternative Caring. Is she a true believer that marijuana is medicinal?
Sharing the medicinal benefits of cannabis has been Ruth's life's journey. She became a lawyer defending people who were arrested for possession. Ruth believes in people's right to heal themselves using something she deems safe, rather than what she calls big pharma.
Tell us about the cast of characters at Ruth's.
Her son Travis [Aaron Moten] is an MBA. He wants to expand and make Ruth's the Walmart of legal marijuana, but she wants to keep it about healing. There are so many crazy characters: Dabby and Dank [Betsy Sodaro and Chris Redd], stoners who hang out in the parking lot, and Tae Kwon Doug [Michael Trucco], a neighbor in the strip mall. We had a table read and I have never seen Chuck laugh so hard; he was gasping for breath!
The show has a retro feel, a little like a '70s Norman Lear sitcom.
They both have things to say about society and the silliness of things, but Chuck definitely has a dark side to his humor. And the show is very raunchy! The wonderful thing is that sometimes it's hysterically funny and the next moment, there's something profound and sad. There's heart as well as hilarity. For instance, the shop's security guard, Carter [Tone Bell], served in Iraq and suffers from PTSD. Animation takes us into his mind to show how he sees the world.
Is it true you won't be on the next season of AHS?
Once you're working with Netflix, they're not keen on you going to other shows, but I have some wiggle room to possibly do a few episodes.
I love Ruth's hippie look; she could be Frankie's buddy on Grace and Frankie.
She could! When I put the wig on, there Ruth is. I've wanted hair like this my whole life. I'm not a pretty girl, but this is as close to pretty as I'm going to get, and I'm happy with it.
Disjointed, Series Premiere, Friday, Aug. 25, Netflix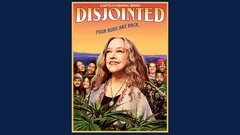 Powered by