Jane Fonda and Lily Tomlin on the 'Grand Time' Making Season 3 of 'Grace and Frankie'
It's positively orgasmic! When the rollicking AARP-appeal comedy Grace and Frankie returns for its third season, divorcées Grace Hanson (Jane Fonda) and Frankie Bergstein (Lily Tomlin) are ready to conquer the business world with their brand-new invention: a super-duper vibrator for senior women called the Ménage à Moi. They've thought of everything: The instructions come in large-size print, the on-off switch glows in the dark so it's easy to find and the amazing rotator head makes it possible to hit all the right lady bits even if one is limited—as Grace is—by severely arthritic hands.
"This product will change the planet…provided Grace and Frankie can find somebody to finance it," Tomlin says. "They're going to loan officers and
startup entrepreneurs, but I don't know why they're wasting their time. They oughta go on Shark Tank and pitch it to Barbara Corcoran! Their invention is that good."
Life for the two women is pretty good too. The series kicked off in 2015 with a juicy but emotionally traumatic premise—the revelation that Grace's husband, Robert (Martin Sheen), and Frankie's husband, Sol (Sam Waterston), had been having an affair for 20 years. But now that's a nonissue.
"It's taken a couple of seasons for Grace and Frankie to fully recover from the shock," notes Fonda. "To their surprise, they don't even think about it much anymore. They've had flings with other interesting men. They know their bodies still work. They're taking charge. I hear from a lot of younger women that our show is making them feel less afraid of getting older. That's the goal!"
Some credit for all this joie de vivre must go to Grace and Frankie's flamboyant friend Babe (Estelle Parsons), who chose to end her life last season rather than slowly succumb to cancer, with Grace and Frankie assisting in the suicide. "It was against everything Grace was raised to believe," says Fonda, "but she loved Babe so much she forced herself to help. The experience taught Grace to open up her mind. It was a moment of tremendous growth."
Tomlin took the loss personally. "Even now I get weepy talking about Babe's death," she says. "I'm not very cool and philosophical when it comes to the end of life. It just seems so damn unfair. We've all got to make the most of the time we have left."
Grace and Frankie's exes certainly feel that way. This season, Robert and Sol will contemplate leaving their law practice and retiring. Or perhaps going into showbiz. (They'll both audition for a musical at a gay community theater.) And Grace's hilariously unfeeling daughter Brianna (June Diane Raphael) seems ready to warm up—but only after her cold disinterest in having a family of her own leads to the loss of her totally terrific boyfriend, Barry (Peter Cambor).
"Brianna is ballsy and bratty and doesn't apologize for not wanting children," Raphael says. "I'm a mom in real life but love playing a woman who stands in that light and sticks to her guns, even though the world looks down on her. Everyone's got an opinion! But now Brianna will face the repercussions of living the life she wants. And that sucks."
A fourth season of Grace and Frankie is expected, though not yet announced by Netflix. Given the age of its stars—Tomlin is 77, Fonda is 79—just how long can this hit show run? "Lily and I are having such a grand time, we feel we can play these characters until we're in adult diapers," says Fonda with a laugh. "But, really, why stop even then?"
Grace and Frankie, Season Premiere, Friday, March 24, Netflix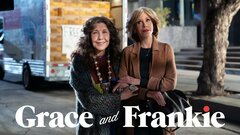 Powered by