'Once Upon A Time' Reboot: Regina Is No Longer Named Regina, Hook Is a Cop!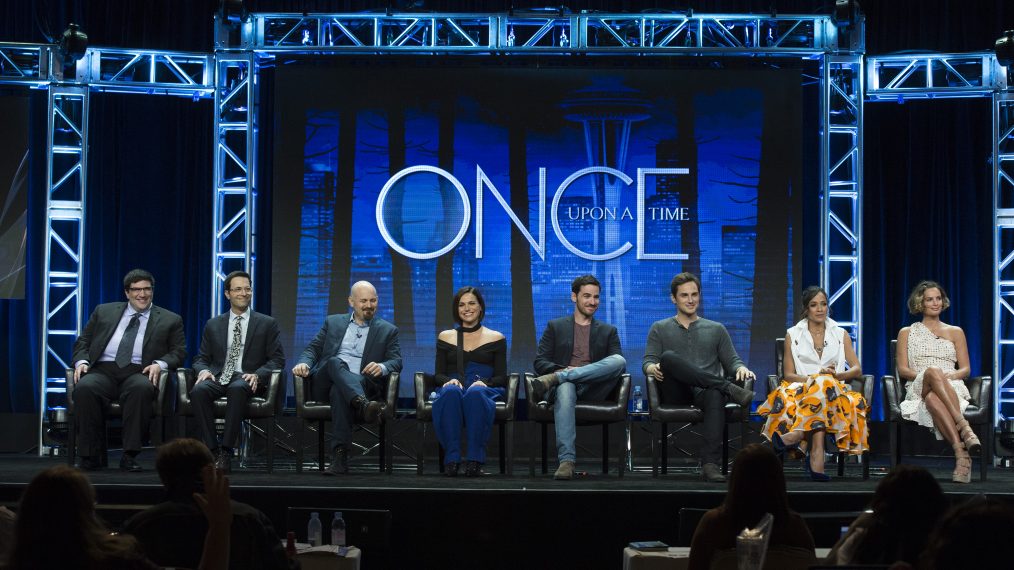 We finally have some answers about the upcoming seventh season of Once Upon A Time and just how radically different (or not) the reboot of the beloved series will be. Executive producers Edward Kitsis, Adam Horowitz and David Goodman were joined during Sunday's Television Critics Association press tour panel by cast members Lana Parrilla (Regina), Colin O'Donoghue (Hook), Andrew J. West (Henry), Dania Ramirez (Cinderella) and Gabrielle Anwar (Lady Tremaine) to talk just what the new episodes will look like.
In the planning for this reboot, Kitsis said he and Horowitz had originally thought of a six-year plan for the show. "I think around season four we started to realize that we wanted to start writing towards our own endpoint and if the show was successful enough or if the network had interest enough to go on, that we would reboot it." Horowitz added, "We felt like the show naturally had places for a lot of these stories to have a happy ending…a new chapter seemed like a great direction to continue the story of the show."
Instead of being set in the fictional town of Storybrooke, the new season will be set in Seattle and focus on "a grown up Henry and he has found himself in a new book with new characters," Kitsis explained. "He's called on by some of his friends like Captain Hook and Rumpelstiltskin (Robert Carlyle) and, of course, his Mom, the Evil Queen, to come join them so we're going to have a new curse in a new town with new characters but we'll still see some old faces."
We know from previous reports that Jennifer Morrison will appear in only one episode as Emma Swan, but what about the characters that will not be back like Snow (Ginnifer Goodwin), Charming (Josh Dallas) and Belle (Emilie de Ravin)? "I think that's also been the fear of a lot of our fans," said Kitsis.
"Episode two is going to answer what has happened with Emma and Captain Hook and episode four will answer that very question for Belle. We're not looking to get rid of any of the happy endings that we have created or set up or ended with. We're not taking anything away but we are moving forward and we think we have a way to achieve both things." Horowitz added, "what happened in the first six seasons of the show remains deeply rooted in the DNA as we go forward."
O'Donoghue and Parrilla also shed some light on what we'll see with the new versions of Hook and Regina, respectively.
"Hook at the start of this season, he is a uniformed cop in Seattle and he's different from the Hook and any of the ten different Hooks that I've played over the five or six seasons," O'Donoghue said. "There's a sense of loss there in the guy and he just doesn't know what it is that's missing so he's striving in some way to find who he is. The Hook that we meet is trying to be the best uniform cop that he can be." O'Donoghue continued, "As is always the case on Once Upon A Time, it's more complicated than that."
Of Regina, Parrilla revealed that her character name is no longer Regina. "I'm no longer in pant suits. I'm in denim and rock t-shirts. When we meet her, this other version of Regina, she's working in a bar," Parrilla said. "She's a bar owner. She's a little rough around the edges…she has curly hair. She looks very different. She feels different. Like Colin, I also have played so many different versions of this character and this one feels really different. All the other versions were evolutions of the character but this one, her name's not even Regina and she's no longer in charge and we've always seen Regina in charge or try to be in charge….this Regina is something else and I'm having a blast playing her."
As for the not-so-happy fan reaction when it was announced in May that the majority of the cast would not be back for the reboot, Kitsis said "After six years, as we all know, contracts are up. Some people wanted to leave the show. In a reboot, some people had stories ended. The tough thing about this business is it isn't just professional, it's also personal and we became really close with a lot of these people so it's always emotional. We're having so much fun rebooting the show and writing these new stories but that doesn't mean I don't have a day that I miss writing Snow and Charming scenes."
One character that is returning but in different form is Henry, now played as an adult by West. "This season Henry and Cinderella are going to be the epic romance that we had season one with Snow and Charming," Kitsis revealed. "All you saw last year was adult Henry with his daughter and they hinted at his mother. This year we'll be actually showing you how [Henry and Cinderella] met, how they fell in love, how they were ripped apart and wondering whether or not they'll find each other in Seattle."
What is Regina and Henry's relationship in the new season with all these changes? Parrilla was careful in what she could say during the panel.
"What's interesting is we actually meet, we reunite after many years in a flashback," she said. "Regina has not seen this grown man ever before so she's taken aback by that and is sort of finding their relationship now that he's now longer this little boy or teenager."
West added, "That's what I think is so cool about it is enough time has passed so there is an element of 'who is this person? He's grown up. He's changed.' That element of strangeness or, in a way, two strangers having to interact is cool and exciting even though, obviously that relationship still exists," said West.
Kitsis added that their characters not exactly knowing each other will be treated much in the same way that Emma and Mary-Margaret interacted with each other in the first season of the long-running series when audiences knew they were daughter and mother but in the context of the show, it took them awhile to learn that.
Once Upon A Time, Season Premiere, October 6, 8/7c, ABC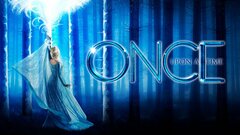 Powered by