ABC Special to Celebrate 50th Anniversary of 'A Charlie Brown Christmas'
ABC will help Linus and Charlie Brown celebrate their 50th year of sharing the real meaning of Christmas.
Kristen Bell is set to host It's Your 50th Christmas, Charlie Brown, a holiday retrospective looking back at the five decades of A Charlie Brown Christmas. The special will air Monday, November 30 (time TBD).
Besides showcasing a digitally remastered version of the 1965 special, the special will include live performances of composer Vince Guaraldi's famous soundtrack, as well as Hollywood stars talking about the show.
ABC will officially announce the special on Wednesday at the Television Critics Association press tour, with executive producer Lee Mendelson and pianist David Benoit in attendance.
The ABC special comes the same month as the release of The Peanuts Movie, which hits theaters Nov. 6. It's the first Peanuts feature film in 35 years, and it comes as the comic strip celebrates its 65th anniversary.
More TCA Coverage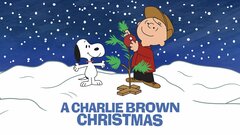 Powered by