New 'Man v. Food' Host Casey Webb Is Ready For Any Challenge
After a five year hiatus, Man v. Food will return to the Travel Channel as a new series with new food, places and faces.
Food lover and actor Casey Webb takes on the role of host as he travels the country going head to head with America's most mouthwatering and jaw-dropping food challenges. Webb has worked in the restaurant industry almost all his life and is ready to face the challenges America has to offer.
TV Insider spoke to web ahead of the Man v. Food premiere.
How did you become passionate about food?
Casey Webb: My beautiful parents cooked very dull food. It was pretty simple food as a kid, and it wasn't until I started working in the restaurant business that my love for food really changed. I knew I liked eating but I didn't know what and why until I was 14 washing dishes in a pizza place.
You're a restaurant business veteran. What part of the restaurant industry did you work in?
I went from washing dishes to bussing tables to waiting tables to bartending to working in the kitchen as a grill cook, salad prep, and then I worked in front of the house management and then as general manager. Then onto sell—wine, spirits. So I've run the gamut in the restaurant. Actually, up until a few months ago I was bartending in Brooklyn, just keeping busy behind the bar.
What made you want host Man v. Food?
Let me tell you, I love a good challenge [and] traveling across the country and meeting folks that work in restaurants as I did. Trying foods in those places was a win-win for me. It's a dream job.
Do you have any input on which states/restaurants to visit?
I do! I have a suggestion box and I fill it with ideas and stuff, and then I just hope they [producers] take advantage of them. I definitely have some input. But it all depends on a lot of things.
How do you decide which food challenges to take?
For instance in the New York episode, which premieres on August 7, we were at a place called the Lunchbox and there were three options: a 1.2 gallon milkshake, an 8lb Sloppy Joe or 6 habanero ghost chili pepper wings. It was a roll of the dice. The chef and owner pulled the challenge out of the hat. Otherwise, it depends on the city and what challenges are offered there. Because of Man v. Food, there's over a 1,000 new challenges across the country. So we've got our hands full and we're going to be busy.
Is there such a thing as a food challenge that is too big/too sweet/too spicy?
No. I'll take on anything! I'll do my best to take it down.
What's going to be different about this Man v. Food reboot?
Well, new food, new faces, new folks, new faces, new friends, and a whole lot of fun! That's what I'm bringing to the table, because it's a new show. We're bringing a whole new energy to it. Man v. Food, the original, paved the way for this Man v. Food so I'm just lucky to be at the helm.
How does the season play out in regards to wins for man?
Let's just say there are winners and there are losers, but man will always prevail. I'm just looking for folks to see how much fun we're having out there and for people to get a glimpse of different parts of the country we travel to that would encourage them to do the same. It's a beautiful country and there's so much great food and great people. All around, it's a beautiful country of ours.
After living in New Jersey and New York, which state do you prefer to dine in?
I'm from New Jersey, grew up there, and live in New York now. For me, there's no better place to eat than in New York because of the variety of foods that are available here. But my first love is coastal food in New Jersey during the summertime. It's a marriage between the two … There's so much to offer in both so it's hard to choose.
What's your advice for fans who want to attempt one of these food challenges?
I'd say do your homework, study hard, and leave everything on the field.
Man v. Food, Series Premiere, Aug. 7, 9/8c, Travel Channel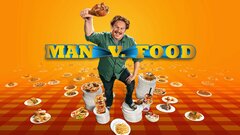 Powered by