Roush Review: An 'Atypical'-ly Enjoyable Family Comedy
Love is a mystery to Sam (the achingly affecting Keir Gilchrist), but then, Sam is a bit of a mystery to all who know and love him.
An 18-year-old on the high-functioning end of the autistic spectrum, Sam is the maddening, endearing hero of Atypical, Robia Rashid's terrifically funny and moving rom-com of a family comedy, during which Sam learns the hard way that no amount of research or rules—two of this very literal young man's favorite things—applies to the challenge of courtship. Sam's disarmingly blunt, awkward yearning for adolescent affection and connection gives a sweet John Hughes gloss to a series that can make you laugh out loud then choke back tears with the manipulative panache of This Is Us.
Yes, it's amusing when Sam makes a list of pros and cons regarding Paige (Jenna Boyd), the sweet fellow nerd he considers his "practice girlfriend," because he's really got his hopes set on his comely but clueless therapist, Julia (Amy Okuda). Not such a joke when Paige realizes what an abstraction she is to Sam, because her feelings are genuine, despite his frequent weird tangents about Antarctica marine life. Her embarrassment is exceeded only by his confusion, and you hurt for both of them.
See Also
A new Marlon Wayans film and the seventh season of AcornTV's 'Vera' also drop this month
As Elsa and Doug, Sam's dissatisfied control-freak mom and forlorn dad, Jennifer Jason Leigh and Michael Rapaport fumble poignantly in their desire to be more than just stressed-out parents. Brigette Lundy-Paine is a find as Casey, Sam's protective and proudly rebellious sister, whose tentative romance with outcast charmer Evan (Quantico's Graham Rogers) is worthy of its own series.
Even when the story lapses into contrived soap opera, it compensates with lovely set pieces like a school dance tailor-made to accommodate Sam's aversion to loud music. By the end of eight episodes—is it an accident that some of Netflix's best shows are its shortest?—I'd fallen hard for everyone on this show. Not exactly typical.
Atypical, Series Premiere, Friday, Aug. 11, Netflix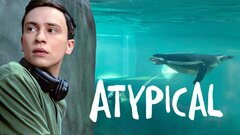 Powered by