'Orange Is the New Black' Cast Talk Nicky's Fate, Emmy Categories
Have Litchfield's inmates said goodbye to one of their own for good?
The stars of Orange is the New Black gathered at the Television Critics Association press tour on Tuesday to reflect on Season 3 and address the fate of a fan favorite character. The last that viewers saw of Nicky Nichols (Natasha Lyonne), she was on her way to a maximum security facility, and Lyonne was tight-lipped about any future appearances on the Netflix series. "Last season, there were huge stakes for Nicky," Lyonne said. "I've learned to answer these questions much like an attorney might, so I can't speak to [her return]. I feel a great deal of solidarity with the cast of Game of Thrones."
RELATED: How Pennsatuckey Went From Villain to Fan Favorite
With creator and executive producer Jenji Kohan absent from the panel, the actors were all hesitant to go into any details about Season 4, which began shooting in June. "This is what I can tell you about Season 4: I'm in it and it comes out sometime next year," said Lea DeLaria (Carrie "Big Boo" Black).
However, the actresses did open up about OITNB's recent Emmy category shift from comedy to drama. The series is nominated for four awards this year, including Outstanding Drama Series and Outstanding Supporting Actress in a Drama Series for Uzo Aduba (Suzanne "Crazy Eyes" Warren). "I would say [the show] is a dramedy," DeLaria said. "I think it's odd that the Emmys don't have a dramedy category." Added co-star Selenis Leyva (Gloria Mendoza): "We are more than thrilled to be acknowledged, and to be considered in both categories is beyond amazing."
More TCA Coverage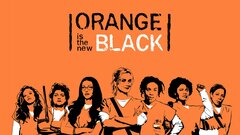 Powered by