'Orange Is the New Black's Uzo Aduba Talks Shifting Emmy Categories
As dozens of lucky television actors learned of their Emmy nominations this morning from phone calls or text messages, Orange is the New Black's Uzo Aduba got the surprise of a lifetime on live television when she learned of the nominations for her Netflix series and her performance as Suzanne "Crazy Eyes" Warren while presenting the categories at the Pacific Design Center in West Hollywood, Calif.
RELATED: More Stars Celebrating Their First Nominations
The theater erupted in cheers as Aduba shared the moment with her co-presenter and So You Think You Can Dance host Cat Deeley, who was also nominated for Outstanding Host For a Reality or Reality-Competition Program. But although Aduba took home the trophy for the same role last year, an Emmy rules change earlier this year shifted OITNB's category from comedy to drama. Instead of competing in the Outstanding Guest Actress in a Comedy category, she is now listed in the Outstanding Supporting Actress in a Drama category alongside mainstays such as Downton Abbey's Joanne Froggatt (who won the Golden Globe in January), The Good Wife's Christine Baranski and Mad Men's Christina Hendricks.
"Our show has never really been married to a category," Aduba said of the shift. "What we've been invested in primarily, from [creator] Jenji [Kohan] down, is the story that we're telling. In this season, it felt like we had a lot of meat in that story, so I'm excited it's been received by the Academy not only for my character, but also the show itself."
Even though OITNB's third season has been available on Netflix for months, today's Emmy nominations reflect the show's Season 2 work. Aduba also insists the changing Emmy categories have no reflection on how the actors execute the material. "I don't go in thinking, 'OK, now we're in the drama category so now we're going to play it this way,'" she said. "I think the stakes were of a different sort for Suzanne this year in really trying to master love and win somebody in a way that caused her to make compromises in places where I don't think she had necessarily in the previous season."
And visit the TV Insider Emmys page for more coverage.
The 67th Annual Primetime Emmy Awards air Sunday, Sept. 20 at 8/7c on Fox.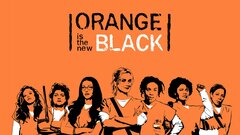 Powered by