Chelsea Handler Hints at What Her New Netflix Talk Show Will Be—And What It Won't Be
Chelsea Handler's new Netflix talk show is still a work in progress.
Handler told reporters at the Television Critics Association press tour that the show, set to launch in 2016, is still in the early, embryonic stage, with not much in place yet. She confirms that it won't be a nightly talk show, but it will post at least two times (or maybe more) a week.
"I don't want to do that again," Handler said of doing another nightly show in the vein of E!'s Chelsea Lately. "We're going back and forth (on what it will be). It's going to be a lot broader."
Current discussions include figuring out how soon a show can post after it's produced. Netflix, of course, is known for uploading an entire season of scripted series all at once—something that a topical talk show can't do. "We have to get it down to a place where we shoot something and it (can run within) 48 hours later," Handler said.
The host said she couldn't give a direct answer yet on when the new talk show will be ready to go. "When the show it's on it's because it was ready to be on, creatively and technically," she said. "They have to put it on in so many countries… I'll be in your face, don't worry."
RELATED: How to Save Your Favorite Show on Netflix
Handler right now is focused on finishing her four original Netflix documentary films, produced under the banner Chelsea Does. The films focus on her experiences with marriage, racism, technology and drugs.
"My juices are flowing in a different way," she said. "It's a lot different than anything I've done before. I had to get my brain working again."
Handler said the films came out of her desire to keep working, even though Netflix wasn't ready for her talk show to start this year.
"We were brainstorming what would be interesting for me to do in the interim," she said. "I didn't want to go from one show to another show…If you're really a thoughtful person, then you're always looking to change the game."
Handler ended Chelsea Lately last August. Since then, she's vocally criticized E! for her experience there, but didn't take the bait when asked Tuesday about the network. "I've said enough about it," she said. "I don't think anyone else needs to hear me bitch about E!."
Handler also said she doesn't miss the old show, but still celebrates it. "It was a great, fun time for me, it brought me to a different level of success," she said. "But it wasn't a place I wanted to live for a long time. I wanted to do something else. I was really fortunate that I was in a position to quit. I don't miss it. It was fun and then it was done."
Handler said she was offered the possibility of moving to a broadcast network, but wasn't interested. "I was approached about network jobs," she said, but didn't elaborate on which one. "I wanted to do something different. It was never a serious conversation."
As for working with Netflix, "it's such a pleasure to work with people who have faith in you and let you blossom." Asked to compare her new home to the TV network world, she called it "the difference between playing with kids on the playground or being in a well-respected college."
Handler was also asked to comment on the stereotype, still perpetuated by some in Hollywood, that attractive women couldn't be funny. "It's a stupid thing to say, even responding to it is stupid," she said. "I've seen some really pretty girls who are funny not be as included in the big girls game. That makes no sense at all. You can be both."
As for the documentaries, Handler called them the greatest accomplishment of her career. But she admitted she did wish she still had a talk show platform when the Rachel Dolenz (the white NAACP leader who posed as an African American woman) story hit the press a few weeks ago. "It was beyond ridiculous," she said. "It was a joyful story for me to watch."
More TCA Coverage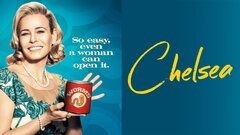 Chelsea
where to stream
Powered by