What's Next for Community's Cast, and Why They Loved the Finale
Is that it for Greendale? Community wrapped up its sixth season this week (its first on Yahoo Screen), and there's still talk of either a Season 7 or a movie (fulfilling the show's infamous #SixSeasonsAndAMovie prophecy).
Community's castmembers praise the show's most recent season, and as Dan Harmon told us this week, anything's possible–although a movie looks more likely at this point. That's because the show's stars are all busy with other projects: Gillian Jacobs (Britta) is ishooting the Judd Apatow comedy Love for Netflix. Ken Jeong (Chang) stars in the new ABC sitcom Dr. Ken. Joel McHale (Jeff) has E!'s The Soup, is producing projects and just signed on to guest star on Fox's The X-Files reboot. Jim Rash (Dean Pelton) has a busy writing and directing career with Nat Faxon in addition to his acting. Danny Pudi (Abed) shot a pilot for NBC this spring.
We spoke with McHale, Rash, Pudi, Jeong, Jacobs and new castmember Keith David (Elroy) this week at an Emmy panel for the show sponsored by the Los Angeles Times. The cast discussed the show's finale, what they got away with this season (including Rash's first-ever on-camera swear) and what might be next. (But first, McHale and Rash literally have a mountain to climb.)
Where do we go from here? A movie? A seventh season?
McHale: I don't know how a seventh season would happen, with schedules and everything, but I know that everyone would probably do it. Ken would quit his show. Danny would quit the pilot that didn't get picked up. But I think if Dan writes a movie script, we all would do it.
Jacobs: A movie would be easiest logistically with everyone. It would be fun to do.
Rash: I love that the finale ended with "#andamovie." It was a great emotional ending but at the same time I do cross my fingers that we can build off of that and finish what we began with a movie. It feels like the best way to know Community had the run that it should have had, following some kind of prophecy that was started by a hashtag. Obviously a lot of things are happening with Ken doing a show, Gillian doing a Netflix show, Joel trying to scrape by with his other stuff. It seems ripe for a movie.
Indeed, you're all busy with new things.
McHale: Some are busier than others.
Jeong [now the star of ABC's Dr. Ken]: I just love these guys so much, I would do anything to keep working with these guys.
McHale: Will you quit your new sitcom?
Jeong: [laughs]
McHale: Ken decided he wanted to make money. Real money.
Jeong: Honestly, my success…
McHale: Oh jeez, don't do this. OK, here's my Ken. [Does a Ken Jeong impersonation.] "I'm just so thankful and excited… I'm just so lucky. And Community is one of the greatest things, and Dr. Ken is one of the greatest things. It's the greatest catering, the greatest doughnuts, and some of the greatest people on the planet. Earth is great. I love Earth and the way it supports life. I love it."
Pudi: You just nailed a Ken Jeong interview! You nailed it. You Joel McHale'd it.
What's next for you in TV, Jim?
Rash: My eye has always been on Community closing up shop for real and then writing for myself. I've always wanted to write a vehicle for myself, something in my voice. I finished that and now looking to take it out. An hour-long comedy-drama, which is a little different, but pulling from my own life. We'll see. I'll take my shot.
McHale: Jim and I are climbing a mountain in less than a month. Mt. Rainier. We're going to bury the other finale, the one no one knows about, at the top of the mountain.
Just you two?
McHale: It's not just us because we'd be dead. My wife and three guides, one of whom is my brother. He said we have to hire more guides because he doesn't want to be responsible for my death.
Now that the season has wrapped, looking at it as a whole, it was a more grounded year.
Jacobs: Emotional, meta, self-reflecting. And weirdly mature for us.
Rash: I thought this was a great year in reinvesting into the characters. That was one of the reasons to pull back on costumes and watch these characters evolve. Chang was really grounded this year. Also with the threat of Frankie, it allowed the Dean to be in check a little bit. I was just happy to be a part of the paintball action this year.
Jeong: This has been my favorite season of Chang since the first season. It was a testament to the show.
McHale: Well, it's also a testament to how funny you are, dummy.
Although in the finale, we finally get to see the Dean back in costume. Jim, you had to wear a diaper through one of the episode's running gags.
Rash: There was a lot of diaper. I came to Hollywood and was declared eye candy, so I've got to keep it up. But for some reason I have not been given those action roles I was expecting. That and I wanted to make Joel super jealous. But I pale in comparison so it doesn't work.
And Jim, you were able to say "fuck" in the finale–and it wasn't bleeped!
Rash: It wasn't in the script. I did it one time for fun, and I was sort of surprised that it made it. I went for it. It might very well be my first on-screen "f—k" as an actor.
McHale: It was the most well-delivered "f—k" in history. It was perfect.
Overall, with no ratings pressure and no threat of cancellation, I assume that made for a brighter mood on set.
McHale: This year was so much fun to be on set every day. A lot of screwing around.
Pudi: More screwing around bits made it on the screen this year!
Jacobs: And we all still like each other, which is kind of a remarkable feat for six years trapped in a room together.
The finale ends on a pretty emotional note.
McHale: It reminded me of the last episode of Brothers and Sisters.
Pudi: That's a deep cut!
McHale: Obviously Dan once again nailed the writing.
Pudi: He nailed the season.
McHale: He brought it all together and through losing cast members and adding cast members. It was one of those things, to jump over the obstacle of writing a series finale, perhaps, is a difficult thing to do, but he's Dan Harmon.
Jeong: It was great, having seen the finale through Jeff Winger's lens. The meta lens. It was so heartfelt. I know a lot of people will say it was sad, but it was so beautiful.
Pudi: It really was.
Jeong: I saw it twice today. It was beautiful.
David: It jerked a little tear. Whatever happens, a movie, another season, I hope something does come of it. It's one of those experiences for the fans you don't see every day. It's smart, funny and there's a lot of heart in this community – no pun intended.
READ MORE: We talked to Dan Harmon about his vision for (and cameo in) the finale. Plus, how to watch on Yahoo Screen, behind the scenes of Season 6, and the full story of how the series went from broadcast to streaming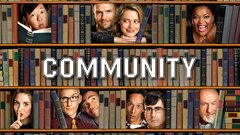 Powered by