Extreme Weight Loss Producer Says You Lose More Pounds With Love
Every episode of ABC's Extreme Weight Loss is a year in the making. Each week the series–which returns for its fifth season tonight–follows a year in the life of an obese person, eager to do what ever is necessary to lose a bunch of weight. Viewers see that transformation by the end of the hour, instead of having to wait a full season.
Executive producer JD Roth admits that juggling so many episodes a year before launch is a challenge. But it's one he relishes: Roth and his production company, 3 Ball, have already cast and begun shooting next year's weight loss individuals (although ABC won't officially renew the show for at least a few more weeks).
Roth was eager to shake things up for Season 5. Extreme Weight Loss struck a deal with the NBA to participate; pro basketball legends Kobe Bryant, Steve Nash, Byron Scott and James Worthy appear in the first episode (with more to come).
Also this year, episodes dubbed "Love Can't Weight" will focus on obese engaged couples looking to lose pounds before their wedding; those three episodes will double as a "planted spin-off" for a potential companion series. Chris and Heidi Powell are back this year as the show's trainers. Also appearing this season: Singer Ne-Yo, NBA player Chris Bosh, NFL star LeSean McCoy, swimming champion Amy Van Dyken, soccer player Mia Hamm, actress Holly Robinson Peete and auto racer Mario Andretti.
We spoke with Roth about the grueling schedule behind Extreme Weight Loss and what's different about this year.
How does this work? How do you manage to work on multiple episodes at once for an entire year?
It's a unique production model. There aren't many shows that can figure out a way to afford a calendar year to shoot an episode. Most unscripted shows in primetime happen over a very short period of time. That's the beauty of these shows. But when we started shooting 365 days, it changed the model. We had to come up with a scenario that would provide us with a way to follow these people for a full year but not have to shoot every single day. Think about it, we're asking the network for casting 16 months before the episode will air. So we start in January casting for the following summer. By the time we cast the people, bring them for final casting, prepare them and then narrow down the people that we want, we're still about 14 months before the first episode airing. So it's tricky because you're doing two seasons at once, all the time, and we've been doing that for the last six years.
[jwplatform jzCQw77P]
Has it gotten easier at all, now that you know the tricks of how to do this?
The format has evolved, and the proprietary way to get the weight off the contestants has also evolved. And the way we shoot the show has evolved. So we've gotten smarter about knowing when the real great emotional tent-pole moments are. We will find now that we can tell. Have they gone radio silent? Did they not show up for one of their workouts? When these hidden messages come our way, as producers we know that's a signal. If we see that weight loss has gone from 7 or 8 pounds a week to 1 or 2 pounds a week, we know something's up. So sometimes we will fly Chris Powell out there and have him do surveillance for a couple of days outside of their house, outside of their gym, and in the shadows he can see what's going on, then diagnose the problem and confront them about it.
You mentioned the proprietary weight loss regimen has changed. What does that mean?
Originally when we first started in weight loss in 2004 (as one of the original producers of The Biggest Loser), every doctor I called had the same answer: You can only lose 1 or 2 pounds a week. So I would hang up the phone with that doctor and call another one. I figured I'd keep calling doctors until I got the answer I wanted. Because 1 or 2 pounds a week wasn't going to work. There's no magic in that, there's no television there. I called for weeks and every doctor gave me the same answer. But then I realized, they were coming to it from such a scientific background. I think the one ingredient that didn't include in their equation was what we were going to bring, which was love. So sure if you just do it as a science project, you get 1 or 2 a week. But if you love someone and tell them, "I believe in you even though you don't believe in yourself," you can turn 1 or 2 pounds a week into 10 or 11 pounds a week. It's the emotional work that's really hard.
Talk about this new element to the show, Love Can't Wait.
A lot of people say, "I want to marry this person but I can't even take care of myself now." And "until death do you part" could come soon for these people. They're looking at their lives for the first time in terms of, "I might not be here very long. And I want to have a family and have kids." What better way than to get a hold of yourself physically and mentally before you get married. We got couples who all wanted to get married, but knew they wouldn't get married until they got their lives together. Some shocking things happened. Some people lost all the weight and it brought them closer together. They got married. Some people started to lose the weight and realized that maybe this wasn't the person for them. It was very dramatic.
How will these episodes air? Is there a planted spinoff potential?
It's a planned spinoff. We go off the air during the NBA Finals on ABC. When we come back, we have three wedding episodes. And then the regular episodes will continue through September.
Speaking of the NBA, how did they get involved this year?
We have two episodes that will air back-to-back that are NBA centric. I'm an NBA guy through and through. I even named my kids after basketball players. I've been wanting to do something with the NBA for years. I finally got them involved with Extreme Weight Loss right around the time of the NBA finals, which works perfect.
What do you have the players doing?
For the premiere episode we have identical twins who love the Lakers. And the Lakers rolled out the absolute red carpet for these boys. We were wrapping, pulling cameras and ready to leave, and out of nowhere Kobe Bryant walks out with signed shoes from his locker room. He sits with the guys in the stands for a half hour, talking about how he motivates himself. He said such amazing things to these guys. And then afterward, to his credit, he took pictures with every crewmember and signed basketballs. He couldn't have been more of a gentleman.
Did you catch all of that on tape?
We got lucky. We had turned the cameras off. We had no idea what he was doing. "Get 'em back up, quick! Quick!" We flipped the cameras back on and started recording. In the second episode, we have a big Miami Heat fan.
You're trying a lot of new stuff this year.
We're trying to keep the franchise fresh. We're trying to add a lot of different elements to give you a reason to tune in. The twins episode, our premiere, their transformation is unbelievable. These guys, when I heard their story, I hadn't been this touched in a long time. They didn't have a dad, their mom was in jail for drug issues and they looked after their sisters. Because they kept going to school and getting good grades, no one said anything. These kids raised themselves and their sisters.
ABC keeps giving you that early support, renewing the show early enough for you to produce.
When you can get guys from the legal department to call you and say they can't stop crying, for them to get emotional, it always feels like I passed the test.
Here are this season's participants:
Robert (381 pounds) and Raymond (378 pounds)–Monett, Mo.
Panda (313 pounds) and John (531 pounds)– Grand Rapids, Mich., and Baltimore, Md.
Kim (279 pounds)–Honolulu, Hawaii
Rachel (309 pounds)–Santa Monica, Calif.
Jennifer (342 pounds)–Cody, Wy.
Hannah (310 pounds)–Austin, Texas
Mitzi (262 pounds)–Dallas, Texas
Jackie (266 pounds)–Denver, Colo.
Josh (399 pounds) and Kelli (331 pounds)–Omaha, Neb., and Kansas City, Mo.
"Pearls" (296 pounds)–Wichita Falls, Texas
Extreme Weight Loss, Season premiere Tuesday, May 26, 9/8c, ABC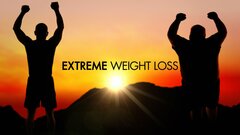 Powered by