What's Worth Watching: 'UnReal' on Lifetime and 'Odd Mom Out' on Bravo for Monday, August 3
UnReal, "Future" (Monday, Aug. 3, 10/9c, Lifetime)
Odd Mom Out, "Wheels Down" (Monday, Aug. 3, 10/9c, Bravo)
When I discovered how much The Bachelorette's cardboard host Chris Harrison despises Lifetime's viciously entertaining UnReal, it just doubled down my own admiration for this juicy and oh-so-dark soap opera that rips the lid off the backstage manipulations of a fictional "reality" dating show. The producers, typically invisible to the consumer of dishonest tripe like the Bachelor franchise, are the decidedly anti-heroic stars of this addictive series: manufacturing conflict (even at the cost of one fragile contestant's life) and making behind-the-scenes deals that turn the players even further into pawns. In the most outrageous of many over-the-top subplots, we find the most gifted and conflicted of show-within-a-show Everlasting's producers, Rachel (the terrific Shiri Appleby), falling for and sleeping with the show's suitor, the callow Adam (Freddie Stroma). As Everlasting's on-set therapist recently counseled one poor soul caught in the crossfire, "Nobody here does anything to be nice."
In the deliciously meta season finale, which is all about staging "the greatest finale in TV history" in Adam's home country of England, UnReal unleashes one hairpin twist after another as the patsies in front of and behind the camera are ensnared in a war raging between Everlasting's estranged executive producers. The boorish coke-fiend man-whore Chet (Craig Bierko) and the bitter, Machiavellian Quinn (Constance Zimmer, remarkable) are on the outs after their ill-advised engagement inevitably collapsed. So when Chet impulsively invites the season's arch-villain Britney (Arielle Kebbel) back for the finale—"I may have been high when I called her," he shrugs—it's just the opening salvo in a dizzying barrage of betrayals and confrontations that will likely leave no one unscathed, least of all Rachel and Adam and whichever unlikely bride-to-be he may choose. Happily ever after doesn't appear to be in the cards for anyone on UnReal. That's reality for you.
If you've missed the crazy train and want to see what all the fuss is about, Lifetime is replaying the entire first season starting at noon. Wallow away.
Or you could opt for Bravo's giddy high-society satire Odd Mom Out, also playing back its first season in a marathon starting at 10 am/9c, a prelude to the first-season finale in prime time. Funky iconoclast Jill (Jill Kargman) has lately been fretting that she's becoming one of the Upper East Side "mom-bots" she so merrily mocks, and for good reason. Her snotty sister-in-law Brooke (Abby Elliott) has roped Jill into working at the N.A.C.H.O. (New Yorkers Against Childhood Obesity) benefit prom gala, which would mean skipping her snarky BFF soulmate Vanessa's (KK Glick) 40th birthday celebration. Which duty calls loudest?
Making matters worse, if that's possible, an authentic family crisis looms when husband Andy (Andy Buckley) shares his scandalous news about brother Lex's (Sean Kleier) workplace infidelity, a burdensome secret that renders a drama queen like Jill "vomit-otious." This unreal housewife of New York is so far out she's in. And if Bravo doesn't renew her show for a second season, maybe sister channel USA Network can pick it up as a companion piece to Playing House (returning Tuesday night). These funny ladies are made for each other.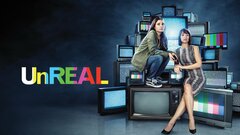 UnREAL
where to stream
Powered by